Vostermans: New nozzle for nozzle fan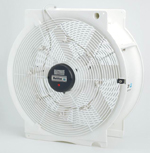 During the Eurotier 2010 Vostermans Ventilation presented a new nozzle for the nozzle fan.
With this renewed nozzle, the average water drop size is reduced from 100 to 65 micron. In combination with the fan the drops evaporate even easier.
Through this improvement the cooling effect of the nozzle fan is enlarged and the risk of dripping is reduced. Also in applications where increase of humidity is required, the reduction of the drop size is an advantage. In comparison to alternative systems the investment costs for this low pressure nozzle system are low.
Related website: