Attend our webinar on "Footprint of entire male pigs in Europe" which will be hosted on February 23 at 15:00 CET. More details below.
Castration is one of the more controversial practices in modern-day pig production. Let's face it – it's nobody's favourite job, the ethical aspect is often discussed, and entires usually grow more efficiently. The last aspect, however, also has an environmental component. Male pigs grow more efficiently and therefore have a lower carbon footprint. Recent European studies have confirmed that sustainability aspect – and in this webinar viewers will hear all about how and why – from the initiative to practice.
An initiative of boars on the way.
Boars on the way is a collaboration of stakeholders from the Dutch pig sector, aiming to end castration of male pigs within the European Union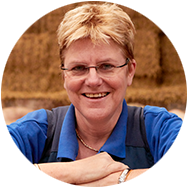 Annechien ten Have-Mellema
Owner of a pig farm and member of boars on the way
Together with her husband Menno and son Detmer, Annechien ten Have-Mellema has a pig farm with arable land and biogas production in the north of the Netherlands. They own a special brand named Hamletz. The meat of Hamletz is sold in Dutch retail shops.
In the brand Hamletz they focus on three things: sustainability, better life ande above all a better taste. The National animal welfare organisation granted the farm two stars of the Better Life quality mark.
Annechien has been the chairman of the Dutch pig farmers' association from 2004-2012. She is member of the council on animal affairs. Chairman of the Dutch Steering Committee "Boars on the Way" to end surgical castration on EU-level or in a market driven way.
Since 2017 she is the chairman of Nuffield The Netherlands and member of the board of Nuffield International. She is member of the Global Farmers Network.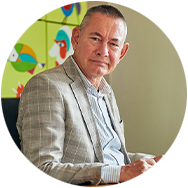 Gé Backus
Director of the Dutch advisory organisation Connecting Agri and Food and member of boars on the way
Presentation title: Carbon footprint of entire male pigs
This presentation reports on the impact of ending castration on the footprint of European farm level pig production. Both observational and experimental data were collected. Selected countries were Belgium, Denmark, France, Germany, and the Netherlands. The study shows that producing boars instead of barrows results in a significantly better feed utilization and thus a lower footprint.
Gé Backus serves as the director of the Dutch advisory organisation Connecting Agri and Food. He has almost 40 years of experience in the swine industry, with the last 10 years focusing on strategy issues, smart farming, and market concepts. Prior to that time, Gé worked at Wageningen University, and supported public (European Commission, World bank, FAO) and private clients (farmer organizations, feed companies, breeding companies, slaughter companies and retail organizations) within the pork supply chain in both Europe and Asia. Gé is currently member of the Dutch National Council of Animal Affairs, and chairman of the voluntary European Expert Group on ending castration of male piglets.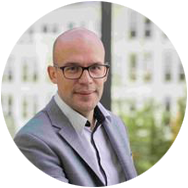 Mathieu Pecqueur
External Relations Manager, General Services & Group CSR
This presentation provides insight into what does it mean for the animal? And what does it mean for consumers and citizens?
In this webinar, we will discuss the following 5 topics
Potential contribution to the EU farm to fork strategy
Bottlenecks to reduce the carbon footprint
Market players that must be convinced
Possible directions for solutions
Role of the European Commission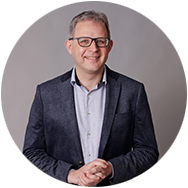 Vincent ter Beek
Host and editor Pig Progress