Oedema disease (OD) is one of the major diseases affecting pigs in the nursery stage, causing significant mortality on affected farms. It is caused by Escherichia coli strains which produce Shiga toxin (STEC), specifically Shiga toxin 2 subtype e (Stx2e). These strains are equipped with fimbrial adhesins F18, which are important for adhesion, and therefore the pathogenicity of the bacteria. Isolation of strains of E. coli carrying the gene for stx2e toxin, both with adhesins other than F18 and entirely without F18, has been described in both clinical cases of OD and clinically healthy animals (subclinical cases). Therefore, their real importance remains unclear.
The susceptibility of pigs to OD is often increased shortly after weaning due to stress, change of diet and especially due to the higher expression of receptors specific for F18 on enterocytes, needed for the colonisation of susceptible piglets. Vaccination with products based on specific toxoid Stx2e (Ecoporc Shiga, Ceva Santé Animale, France) has been shown to be the most successful method for preventing clinical OD and a reduction in mortality. This approach is also particularly timely, given current/impending restrictions on the metaphylactic use of antibiotics in feed and therapeutic levels of zinc oxide to control infections during post weaning period, especially in Europe.
Are all STEC strains the same?
As previously described, E. coli strains harbouring the Stx2e gene, usually belonging to serogroups O138, O139, O141 or O147 and expressing adhesins F18, are described as typical ethiological agents of OD. On pig farms, stx2e gene positive E. coli strains, belonging to different O-antigens and F18 negative, are also frequently detected either from clinical cases of OD but as well from animals without symptoms of OD.
A recently published study from the Czech Republic aimed to characterise atypical STEC strains based on the determination of serogroup, adherence factors, haemolysis on blood agar and their ability to produce Shiga toxin 2 in vitro using a Vero cells assay. In total, 20 strains associated with OD were determined as atypical (adhesins F18 were not detected). Out of this collection, five strains (25%) were highly cytotoxic in vitro (IC50 >64000). Out of 18 typical strains detected, the most of them belonged to O139 and were equipped with fimbrial adhesins F18. In all these strains, the production of Shiga toxin was confirmed and high production of toxin (IC50 >64000) was detected in 4 strains (22%).
Figure 1 – Typical and atypical strains causing oedema disease show similar pathogenicity profile in Vero cell assay.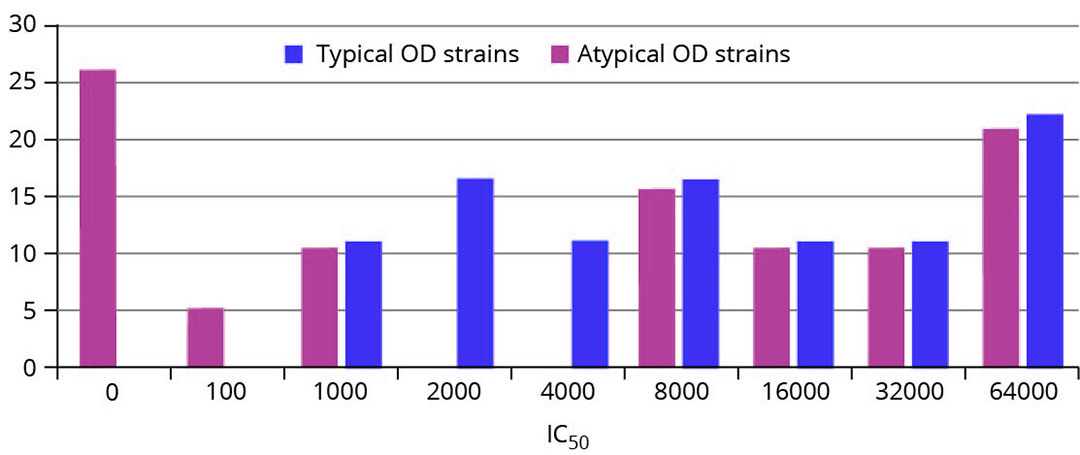 The results of the study confirmed that even atypical E.coli strains carrying the stx2e gene (F18 adhesin negative) are able to produce stx2e and may be involved in OD cases on farms (Figure 1). The Shiga toxin gene confirmation is consequently the crucial diagnostic step together with the consideration of anamnestic data (clinical disease and mortality on affected farms).
Subclinical OD can impact performance
Typical cases of OD are characterised by classical manifestation in affected piglets, including neurological symptoms, oedema of subcutis and on predilection sites, usually accompanied by high mortality. Nevertheless, cases of improvement of zootechnical parameters were recorded on farms with history of OD after implementation of vaccination as well in scenarios, when groups did not differ in mortality and frequency of clinical signs. The positive effect of vaccination on suspected subclinical OD may explain this observation. Studies have described subclinical disease in piglets as animals which are clinically normal but with developed vascular lesions and decreased growth rate, therefore noting the negative effects of these cases on production.
Figure 2 – Difference of weight gain during the nursery period
based on STEC2e status: positive and negative piglets.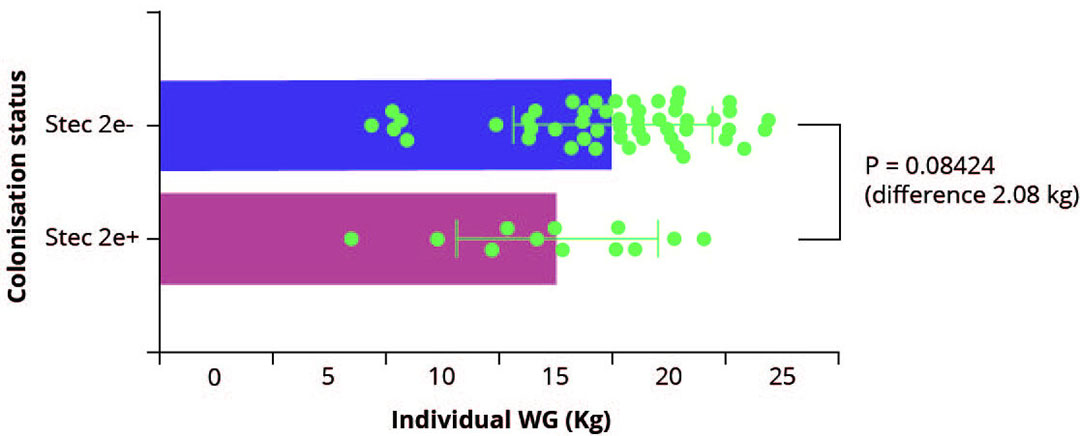 The objective of one study was to investigate the possible effect of positivity, and thus possible colonisation/infection of piglets by E. coli (stx2e+/ stx2e -), on performance during the nursery period on a farm with a history of OD (Figure 2). Piglets which were positive at least once were assigned to group A (stx2e +) and stx2e negative piglets were assigned to group B. They were weighed at weaning and at 69 days of age (DOA). Piglet weights did not differ at the beginning of study (weaning) (p= 0.71) and therefore, both groups could be compared.
Despite the low number of stx2e positive animals detected in this study (12 piglets), a negative effect of possible colonisation of piglets by STEC was observed. There was a numerical difference in weight gain between groups, with Stx2e negative piglets averaging 2.08 kg heavier (P= 0.084). Further studies are required to confirm the negative effect of colonisation (subclinical OD) on production results and zootechnical performance on pig farms.
Improve zootechnical performance
OD is one of the most important diseases affecting nursery piglets, causing significant losses on affected farms. An increase in the number of outbreaks in the coming period is anticipated due to the ban of ZnO on EU farms and the more prudent application of new EMA categorisation of antibiotics. For accurate confirmation of OD disease, diagnostic methods should include characterisation of the strain in the laboratory, with focus placed on the detection of the Stx2e gene. STEC strains may differ in their ability to produce toxin, which provides a possible explanation for the different clinical outcomes of OD and the potential negative impact of subclinical disease on production parameters. In such scenario, implementation of vaccination may improve zootechnical performance in nursery period.
References can provided on request.