New found bacteria responsible for lung disease in pigs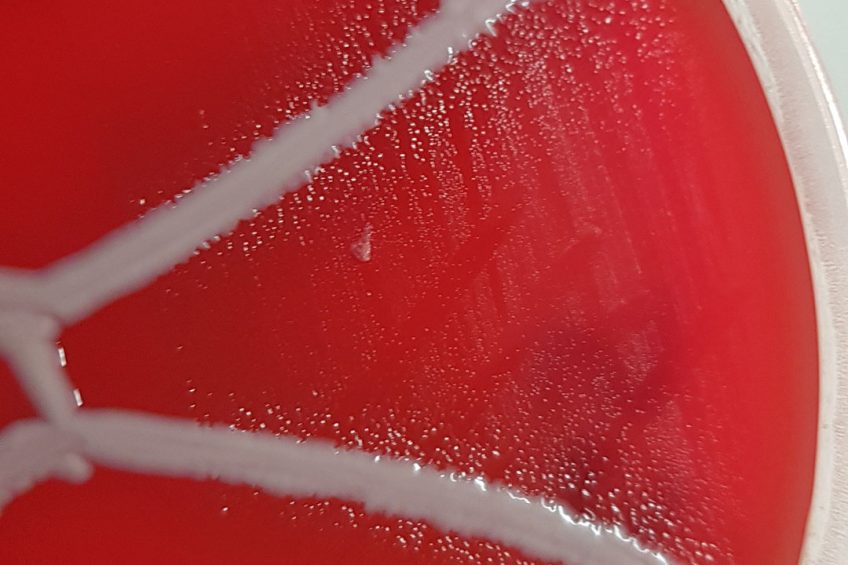 Research carried out by Australian scientist has produced surprising results linking a newly found bacteria to be the cause of lung disease in pigs. The new bacteria has been introduced as Glaesserella australis.
Glaesserella australis on blood plate with Staphylococcus aureus displaying satellitism. Photo: The University of Queensland
The new bacteria, Glaesserella australis, is relatively new in the bacteria family. It was discovered at the same time as the closest known relative to the new organism Haemophilus parasuis, was being renamed Glaesserella by American researchers. It took some time before this new bacteria was discovered. Project leader Conny Turni, who works at the Queensland Alliance for Agriculture and Food Innovation (QAAFI), said that G.australis had previously been mistaken for porcine pleuropneumonia (caused by the bacterium Actinobacillus pleuropneumoniae) after noticing lesions and abscesses in the lungs of pig carcasses. These signs looked very similar to Actinobacillus pleuropneumoniae, despite the fact that the animals had been fully vaccinated against this.
Australian Pork Limited reached out to researchers from QAAFI for help. The researchers discovered one new species and another potential new species of lung-infecting bacteria, this concluded that current vaccines were not working as they should. Once the new genus was formally recognised in 2019, the QAAFI researchers could announce Glaesserella australis as a new species.
On-farm effects of the new bacteria
G. australis is associated with 2 disease scenarios, says Dr Turni:
One is where there are no apparent clinical signs of disease on-farm, but at the abattoir the carcass has lesions and abscesses in the lungs that are very similar to those caused by Actinobacillus pleuropneumoniae.
The other scenario is more of a concern where it affects animals from 12 to 20 weeks old, with some cases leading to losses.
Dr Turni says continuing research into G. australis has led to a diagnostic assay that is currently being validated. It involves the testing of 26 G. australis isolates, 15 reference strains and one field isolate of A. pleuropneumoniae, 16 reference strains for another bacterium (Pasteurella multocida) that causes respiratory disease, and another 47 strains and field isolates representing 12 genera and 26 species of similar bacteria.
Prevalence of G. australis and the future
The researchers are currently investigating the extent to which G. australis has spread across the Australian continent. They are analysing dozens of samples taken from pig lungs with lesions, abscesses and pleurisy at the abattoir originating from pigs off farms in New South Wales, Queensland, South Australia and Victoria. The QAFFI team are also examining whether the bacteria can be detected through nasal and tonsil swabbing. In addition to this, the project is looking at the sensitivity of the bacteria to antibiotics, so that the industry can develop targeted and effective treatment programmes.
Pork Australia's manager, Rebecca Athorn says the discovery of G. australis will deliver benefits to both economy and animal health. "The judicious use of antimicrobials and antibiotics is an industry priority. This discovery, and the development of an assay to test for this particular bug, allowing targeted treatment, is significant to the industry's efforts overall to increase vaccine efficiency," she says.
* Source: The University of Queensland Australia article Costly pig lung disease puzzle solved.
Co-author: Sunita van Es-Sahota