UPDATE: British demand enforcement of EU sow stall ban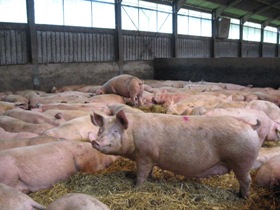 The British National Pig Association (NPA) has urged the European Commission to strictly enforce the sow stall ban, as from January 1, 2013.
On Tuesday morning NPA, with help from the British National Farmers Union (NFU) and the British Pig Executive (BPEX), hosted a breakfast for Members of European Parliament (MEPs).
NPA chairman Stewart Houston called on the European Parliament to hold the Commission to account for implementing the partial stalls ban. The NPA demands 'robust and rapid' infraction proceedings against non-compliant countries.
Houston also called on the Commission to be more transparent in the way it proposes to handle non-compliance with the partial stalls ban.
On Monday, NPA even challenged the European Commission to identify pig units that won't be complying with the January partial stalls ban and ensure they stop inseminating by July.
As a result of his intervention at a stakeholders' meeting in Brussels, the Commission has indicated it will be talking to vets to see if such a ban could be implemented.
Worries
Pork producers in Britain are worried about the enforcement of the upcoming ban as the many countries are non-compliant with regard to the Welfare of Laying Hens directive in poultry production. Although this legislation came into force on January 1, 2012, 13 Member States do not or only partly comply.
The British point out that pig producers in many EU countries will not be ready in time with all adjustments around the sow stall ban. In the UK, however, these rules have been applied since 1999.
Houston was quoted to say: "All member states owe it to the law abiding pork producers to protect them against neigbours who fail to comply – and thus can work against lower costs. The European pork producing industry's repultation depends on a complete, fair and timely implementation of the sow stalls directive."
Period of grace
NPA representatives were told on Monday that the European Commission is willing to bestow a 36-month period of grace on successful applicants for aid to convert to loose sow housing.
This plan will help producers who are not able to meet the deadline of January 1, 2013. The Commission said that for the funding and the 36-month period of grace to apply, buildings would have to be empty of pigs to start with.
NPA members were startled to hear about this suggestion. "Many farmers have already invested in their systems personally – are you saying you are going to give those that haven't complied money and an extra three years to comply and how does this help with unfair competition?", asked NPA general manager Zoe Davies.
Profits
Houston also suggested that a lack of compliance on the partial sow stall ban by some EU Member States may have positive effects for UK pig producers as well.
He said there would, without doubt, be a decrease in the number of pigs produced in the EU, as a result of the 2013 ban.

Farmers Weekly reported that Houston expected there to be an effect on 'price and profitability', with less than ten Member States, in reality, expected to be less than fully compliant.
"UK producers have struggled to make a margin due to the oversupply of pork and pork products. Non-compliance by some Member States could be good for UK pig producers as it could increase profitability in the short term due to supply issues."
In time Houston expected it to level, but expected that it wouldn't be so quick.
Related websites:
• National Farmers Union
• Farmers Weekly
• National Pig Association
• British Pig Executive