In Canada, the world's third-largest pork exporter, there are many types of pig farms. At first, the Préjets of Manitoba had a simple farm – large, in fact, for the time – but made the decision to go much larger. And it has paid off handsomely.
Over the last 25 years, they have invested with others at a steady pace to become fully integrated, and have also adapted to new circumstances by installing group sow housing and taking advantage of by-products from food processing plants to save on feed costs.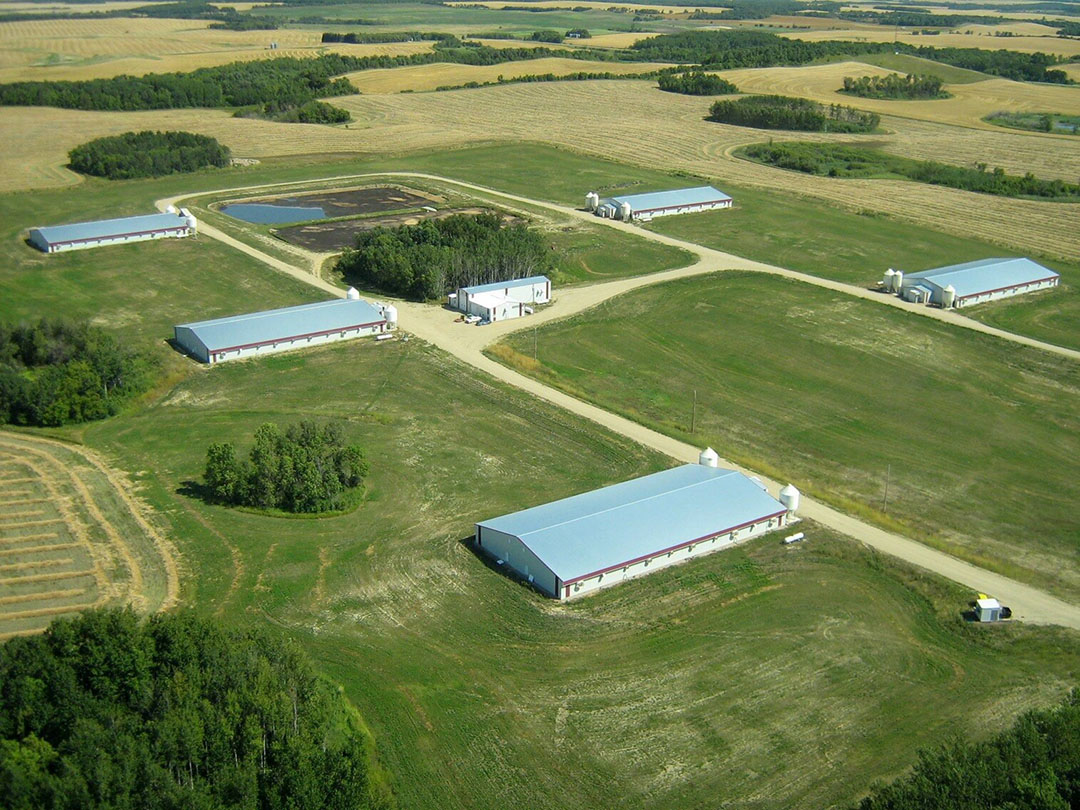 Farm origins
The story begins with Rick Préjet (currently chair of the Manitoba Pork Council) back in 1989. After working for 7 years in the feed industry, he returned to his home community of Notre Dame with his new wife Roseline (a nurse). That year, they built their own 150-sow farrow-to-feeder barn and had their first son, Jean (Johnny). "There were lots of smaller operations at the time," says Préjet. "Our size was quite big for this area. We borrowed two-thirds of the cost. The first year, the prices were very good and things went well. We expanded to 200 sows and dropped the weaning age, as that was the trend at the time."
However, market prices then started to drop. In addition, there were no nursing jobs for Roseline. By the time their second child, Nathalie, was born in 1991, Préjet says "the farm had difficulty supporting itself and the family".
Porcherie Lac du Onze
In 1993 (when another son, Christian, was born), Rick considered taking a position managing a large sow operation in southeast Manitoba, one of the first of the larger farms that would become much more common in Western Canada. However, instead of moving away and doing this, Rick and Roseline made a big decision. With a group of local farmers, friends and family, they proceeded to create Porcherie Lac du Onze (PLDO), a 1,250-sow farrow-to-feeder operation. In 1995, their last child, Matthieu, was born.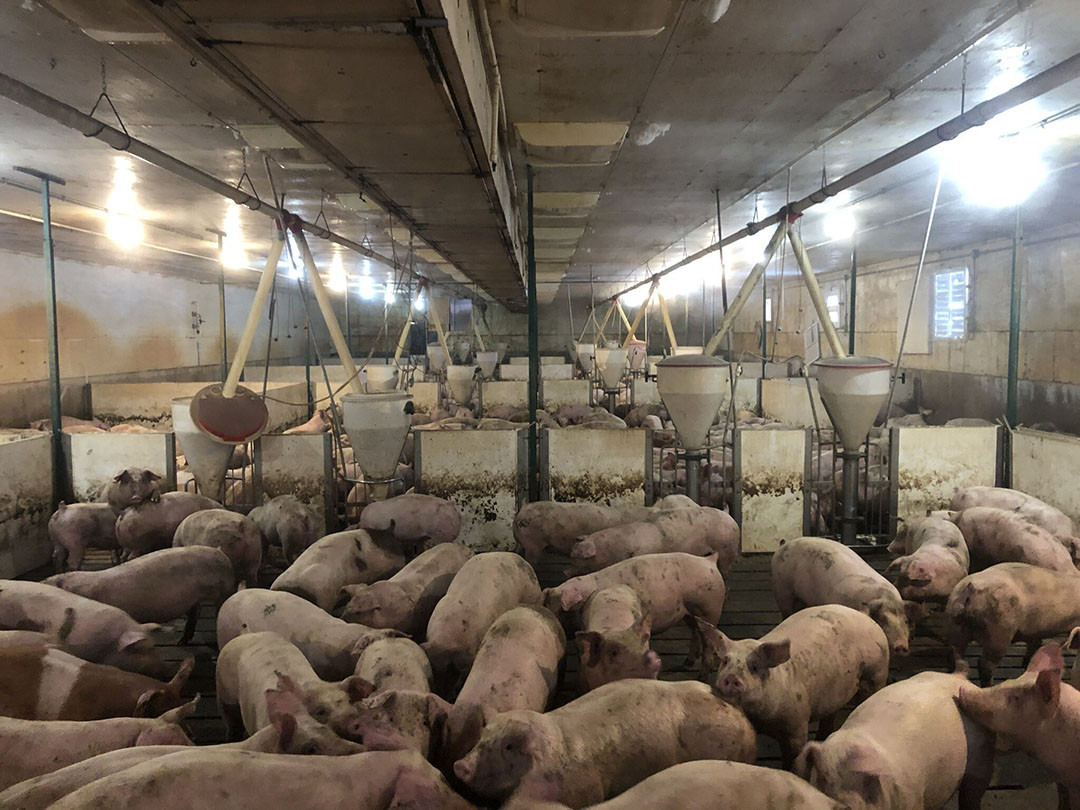 Porcherie La Montagne
By 1998, things were going so well that PLDO went to a 3-site model by expanding and converting the sow barn to a 3,000-sow farrow-to-wean operation. The PLDO team also built a 4-barn 10,400-head offsite nursery a few kilometres away. "That year, Roseline and I also joined another investor group and built a 2-barn 4,200-head finisher farm under the name of Porcherie La Montagne (PLM)," says Préjet, "which purchased feeder pigs from PLDO."
Porcherie Notre Dame
In 2001, the PLDO leaders built a 150-head offsite quarantine barn to help acclimatise incoming breeding stock. The year after, they formed a separate company called Porcherie Notre Dame (PND) to build a 6,300-head finisher site (PND purchased feeder pigs from the PLDO flow). PND also started transporting market hogs for themselves and PLM, and built an onsite vehicle wash bay.
In 2002, PLM added three more barns for a total of 10,500 head and, in 2003, PND added two more barns. By 2006, PLDO had hired fellow shareholder Jean Delaquis to assist Préjet in managing and growing the now-large company.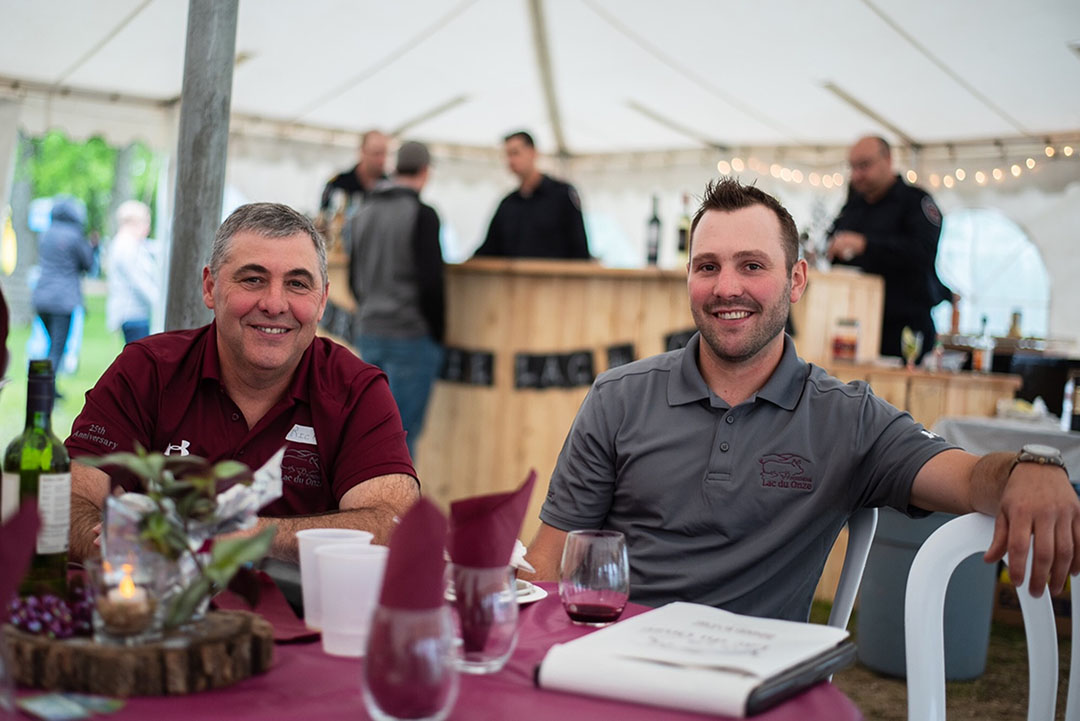 Further expansion
Expansion had to continue steadily, says Préjet, with the top aims being to keep costs under control as well as maximise biosecurity. "Margins were getting smaller and there was just going to be no room to make money at the sow level, then nursery level, then finisher level, etc." he recalls. "Every stage of production is a potential profit centre. Expansion is always a risk, but we knew we needed to make these moves to ensure the future survival of our farms."
Préjet adds, "We always do research and try to understand our new projects in detail so we are confident in their success before we start." Part of that research over the years for him and his colleagues has involved visits to many different types of operations in Canada, the US and Europe.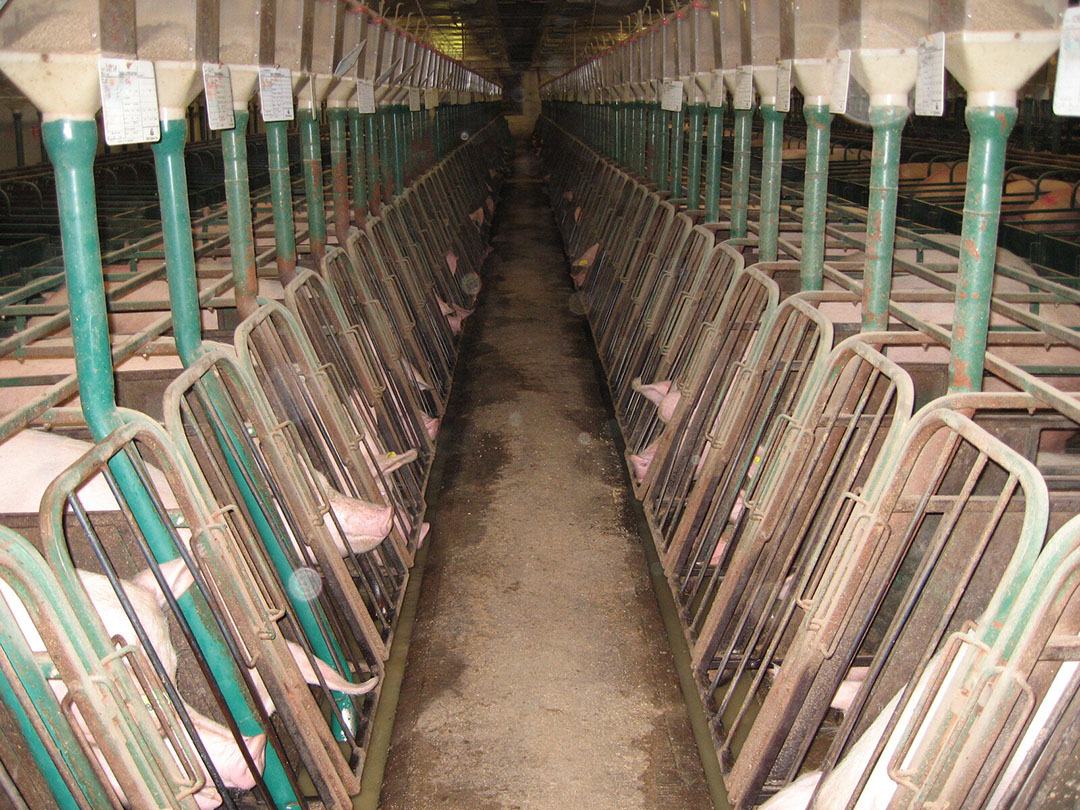 Attention to feed
In 2008, PLDO leaders turned their attention towards feed. They purchased their first feed truck and trailer to transport feed from local mills to PLDO, PND and PLM.
And then the opportunity came in 2010 to purchase a site with an empty barn and feed mill, and PLDO went for it. "The barn became a parity segregation unit to supply the PLDO sow farm in order to stabilise the health status," Préjet explains. "The feed mill got some significant upgrades and then manufactured feed for all the sites."
In 2013, PLDO purchased a building with a 2-bay shop/wash bay and offices in Notre Dame, and hired Johnny (who had been working in the farm finance sector) to work with his father.
And expansion continued. In 2014, PLDO purchased nearby 5,800-head Cardinal Nursery, and in 2015 PND purchased an 8,400-head finisher site followed by a 7,800-head finisher site in 2017.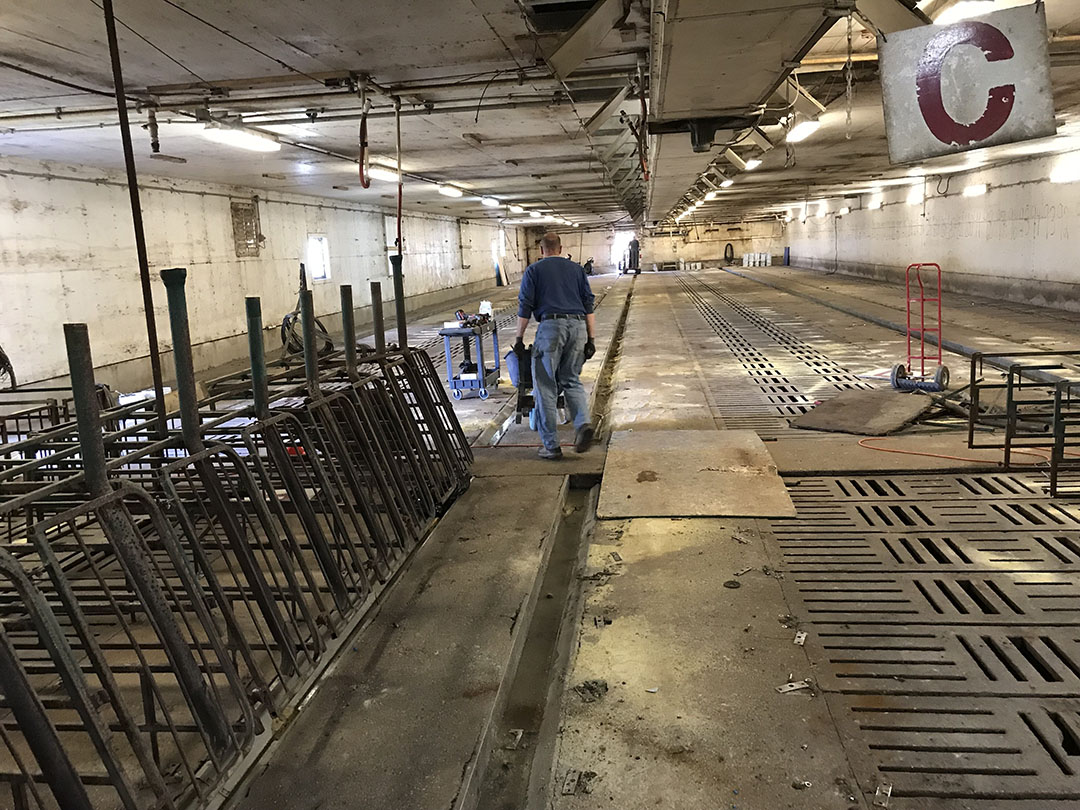 Guiding principles of success
Along with the expansion that was required in the minds of Préjet and his colleagues to ensure survival, he points to other keys to their success over the years. These include having as many things under their direct control as possible and keeping the cost of production down at every level. PLDO and the other group companies were aggressive with the purchase of feed ingredients, medications and other supplies in bulk with other producers, and kept all sites close in terms of location to reduce transport costs.
A like-minded group of shareholders is also essential, Préjet says, as is keeping an open mind to potential opportunities. "Surround yourself," he adds, "with top-notch industry partners from nutritionists to veterinarians, bankers, accountants, etc. Get the best staff you can. Treat them well. Know the business, your farms and staff and be involved daily."
Performance metrics
In terms of performance metrics, at the sow level, pigs weaned per sow per year are measured, and also pigs weaned per sow farrowed. At the finisher level, feed efficiency, growth rate and shipping pigs in the ideal weight category are monitored.
We saw less than 50% of animals using the feeding system without assistance after 3 days. Because of this, we had to come up with our training strategy, which included earlier intervention
Conversion to group housing
In 2017, it was decided to convert the original PLDO sow barn to a group housing system, as the barn was in need of renovation and group housing was going to be mandatory in Canada. They decided to install a Gestal system from Quebec. In 2018, PLDO also renovated and expanded the Treherne site to include a 400-sow multiplication unit and a 1,900-sow commercial unit, again with a Gestal group housing system.
Pig training was needed. "We were told 80%+ of our animals would start using the new feeding system on their own within 3 days without any assistance from employees," says Johnny. "We saw less than 50% of animals using the feeding system without assistance after 3 days. Because of this, we had to come up with our training strategy, which included earlier intervention."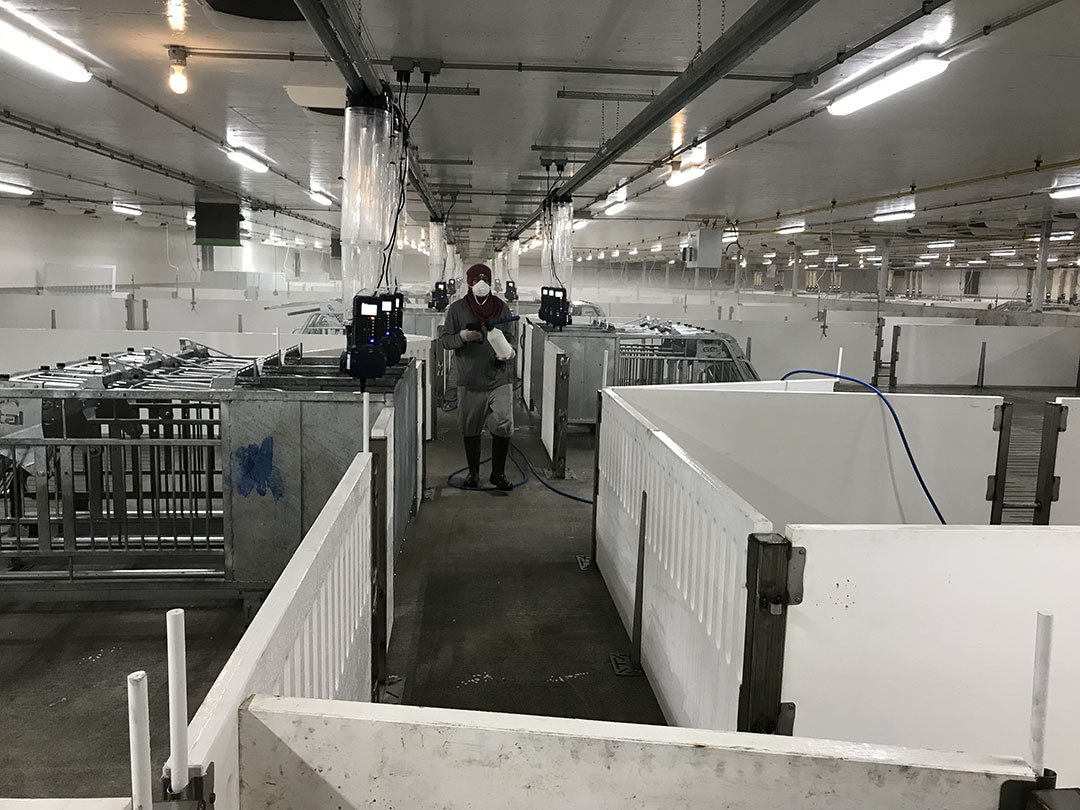 Liquid feeding
Also in 2017, at the PND and PLM finishing sites, use of a liquid by-product (milk permeate from a dairy plant in Winnipeg) was incorporated to reduce feed costs. It was injected into the water lines.
Then, in 2021, a huge new pea processing plant was opened in Manitoba by France-based company Roquette. A liquid by-product became available to add to the milk permeate, and so the decision was made to switch all PND and PLM finisher barns from dry feed to liquid feed, using a feeding system from Big Dutchman, based in Germany.
"We expect to complete the changeover in the next few months," says Préjet. "It's been a significant investment to change all 17 barns and learn how to use the equipment." Johnny adds, "At this point, we are just learning the system and how it operates, how to troubleshoot problems and fix issues. The biggest challenge has been the time zone difference between the technical support in Germany and us."
Expansion continues
Recent expansions include an offsite four-bay wash bay and garage at PND in 2019 to accommodate the expansion in its truck fleet. In 2020, PLDO had to rebuild its Cardinal nursery, which was destroyed by fire due to a ventilation fan malfunction.
At the start of 2020, Johnny took over as general manager and Rick retired into a part-time consulting role. "Working together as father and son has been excellent," says Préjet. "Johnny and I, for the most part, see things the same way. We discuss things a lot and keep an open mind."
In 2022, as chair of the Manitoba Pork Council, Préjet expects that work with other Western Canadian pork industry leaders will continue to get fairer returns from processors for producers. On a personal note, Rick and Roseline look forward to spending more time with their first grandchild, Anna, who was born in 2021 to Johnny and his partner Emily Boonstra.