The Maschhoffs: Progressive farming, family style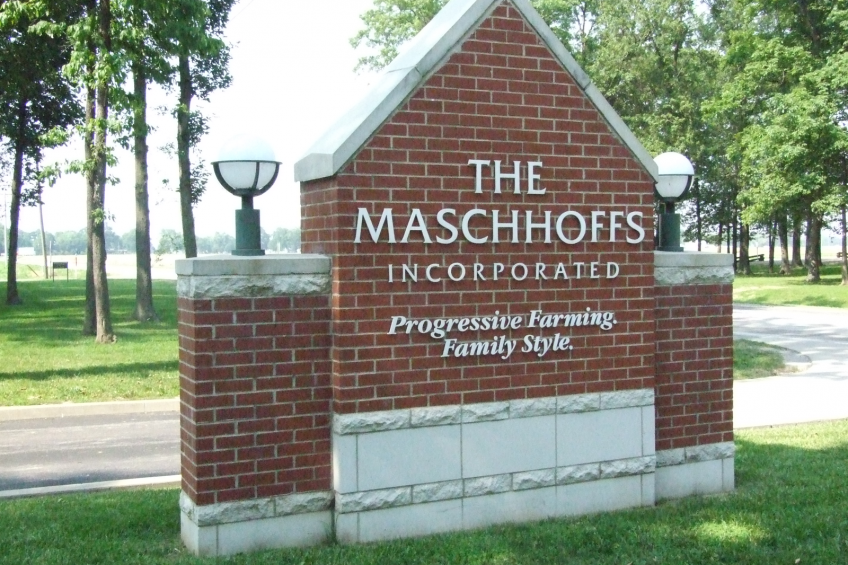 The Maschhoffs is the United States' third largest swine producer, harvesting 3.5 million slaughter pigs and 0.5 million feeder pigs per year – and still growing. Keen to learn more about the family business, Pig Progress travelled to Illinois.
By Stuart Lumb
One of the major features of The Maschhoffs family run pig business could be that its philosophy revolves around being thrifty. Examples can be found everywhere – instead of using expensive custom-built trucks to haul sows around the Carlyle farmstead, modified redundant yellow school buses are being used.
And even today at the age of 80, father Wayne Maschhoff is still a visible fixture at the day-to-day farm business, running errands and watching the family farm business grow and occasionally offering advice.
[([005_boerderij-image-1006052.jpeg])]
Ken Maschhoff: "Most of our production is located in Midwestern states of the US."
The Maschhoff family have been farming in the Carlyle, IL, area since the mid-1850s, run nowadays by Wayne's sons Ken and Dave. After university they went on to work on the family farm and in 1979 whilst they were still in their late teens and early twenties they were made 50-50 partners with their parents and began to effectively run the business, with their wives looking after the accounts and records. Then in 1991 the two brothers bought out their parents. Wayne Maschhoff was a forward thinking man and happy to step aside. "I saw too many farm boys stifled by their fathers. I wanted my boys to keep growing. "Key words to better understand The Maschhoffs could be, 'traditional', 'Mid-West' and 'values'. Especially smaller family farms in this area of the United States have found out in the past that keeping the pig business independently going often has been difficult, as major investments are needed to stay in business in an environment where e.g. diseases increasingly have their impact on profits. Once part of The Maschhoffs as a contract farm, families can act as rearers or finishers, with company veterinarians assisting and advising.
The Maschhoffs has seen an amazing increase in the size of their operation -the business is now the third largest swine operation in the USA, with key decisions being made by Ken Maschhoff; Dr Bradley Wolter, COO; and Jason Logsdon, CFO.
Motto
The company's motto is Progressive farming, family style and the word family is key to the ethos and modus operandi of The Maschhoffs. The company's core values also give an indication as to why the business has done so well. In summary, these are:
Employees and production partners are considered to be most important assets
Belief in family farm, ensuring animal well-being and environmental concern
Dedication to innovation and continued progress
Value the relationship with customers
Size
Ken Maschhoff is the company's president and CEO. He says, "We now have 192,000 sows in the company and have become one of the larger private companies in the US pork industry – we do not anticipate going public. We have grown through acquisition – buying out Minnesota based Land O'Lakes' 60,000 sows in 2005, which doubled the size of the company overnight.
"Earlier this year we had another large addition, acquiring 50,000 sows from Nebraska Pork Partners. We would like to continue to grow. Most of our production is located Midwestern states of the US, but states such as Oklahoma have been attractive in the past as they have fewer hogs and therefore disease is less of a problem. "We are marketing and harvesting 3.5 million slaughter pigs and 0.5 million feeder pigs annually and Cargill Meat solutions, Hormel Foods and Farmland are key markets to us."
Being the third-largest swine producer in the USA, a foreign outlook is important. Ken Maschhoff says, "There is a world demand for protein and the USA is the most cost competitive in producing pork – we have the cheapest corn and soya plus the best national infra-structure.
"The USA can compete successfully with Canada and Brazil on a global basis because farmers have access to capital. Brazil has many attractions but our family has focused on US production at this point.
"Exports are vital for our industry – currently about 20%-25% of production – and we realise that we must keep our export markets open." The Maschhoffs uses both pen and stall gestation housing designs. They continue to study and research housing systems with the goal of developing a sound understanding of their impact on animal welfare and the appropriate stockmanship required by various housing systems.
Maschhoff feels the size and scale of the systems in the US are different from many in Europe and that stockmanship must be altered to handle sows in large groups with consideration for both the sow and the stockman.
Headquarters
Dr Bradley Wolter is The Maschhoffs' COO, operating out of the company's 1,900 m 2 headquarters (see photos 1 and 2). He is one of several graduates from the University of Illinois that are on the company payroll.
"The Maschhoffs has a close relationship with the university and in particular with swine specialist Dr Mike Ellis," Wolter says. "We have developed a joint programme whereby we can provide internships on our farms and the students can use our pigs and facilities for their MS and PhD projects. The research findings and real world experience provide an 'innovation platform' that can be used by the company. The programme also offers potential post-graduate employment opportunities. By spending time doing research on our farms and with our staff both parties get to know a lot about each other which builds good relationships."
The recession in the United States has been tough and the US pork industry had 2.5 years of difficult times. However, The Maschhoffs takes a conservative approach to managing risk and has in fact used hedging for many years, to help keep the company in the black. A team of two fulltime employees focus on risk management of all key production inputs as well as hog sales. The swine industry has always been cyclical and is likely to continue that way, with commodity prices continuing to increase.
[([006_boerderij-image-PP7715I02.jpg])]
The Maschhoffs in figures
The Maschhoffs owns 100% of pigs. Production partners provide the buildings and daily animal care, The Maschhoffs provides pigs and feed.
• Pig farms can be found in various states throughout the USA. The home farm is located in Carlyle, Illinois. This one houses 12,000 sows and 560 sows farrow here per week. In total, 6,000 piglets are weaned every week. The facility has 11 slurry lagoons, with a total 114,000 m3capacity. Other farms are located in Illinois, Indiania, Iowa, Missouri, Oklahoma, Nebraska, South Dakota, Georgia and Alabama.
• Feed mills, as of 2010 can be found in three main locations. Carlyle, IL (company headquarters) produces 5,000 tonnes/week and can produce 150 different rations. Other operations are in Buckeye, IA (5,000 tonnes/week) and in Griggsville, IL (5,000 tonnes/week).
• A research facility (see photo), called Georgia, is located in New Minden, IL. It consists of a field trials facility the size of 60 pens for 30 pigs each. The operation is used for testing before implementing findings commercially. The site is a tunnel ventilated, curtain sided facility. Areas researched are nutrition, management, environment, genetics, all in conjunction with University of Illinois.
• Near the company's headquarters, Riverview genetics can be found, spread out over two isolation sheds with 75 pens in each. Here, 300 boars are kept, collected weekly in four rooms. Every day, 2,200 doses of semen are sent via an underground vacuum tube system to the lab after collection. Four genetic PIC lines are used. Two more boar studs can be found in Missouri.
Wolter continues, "We must never lose sight of the fact that the welfare of the animals in our care is paramount. Incentives are important and hence we have competitions and awards for our producers and caretakers as this encourages friendly rivalry. The Maschhoffs is all about people with a passion for raising pigs."
Feed is the major cost of any pig business and The Maschhoffs produce 70% of its own feed in five feed mills (see photo 3– the feed mill in Carlyle, IL), owned or leased, with three members of staff purchasing ingredients on a full time basis. Production is 'on demand' and, 14 different commercial diets are produced, from breeders through to finishers. The remaining 30% of feed is bought in – quarterly audits are carried out on these mills.
Animal care division
Last but not least, the animal care division of The Maschhoffs is a key sector of the company and Steve Quick holds the position of the division's senior vice president, having joined the company in 1979. "It's vital that as a company grows, the 'checks and balances' grow at the same rate'," Quick says.
"History is littered with companies that have expanded too quickly and too fast, where expenditure has exceeded income with disastrous consequences. For optimum productivity we highlight the 'Big Four': Feed, water, air and animal care. We continue to focus on sound stockmanship and good animal welfare practices to ensure pigs are treated and handled correctly."Production guides (photo 4) have been in place for about six years. These are considered important and are detailed. To quote one example, there is a guide explaining how a feeder should be maintained and adjusted to ensure it dispenses adequate feed without wastage.
[([007_boerderij-image-PP7715I01.jpg])]
The Maschhoffs effluent storage
Manure is stored in deep concrete pits and lagoons, providing long-term storage so that manure can be applied to crop land after harvest or prior to spring planting. Manure applied must balance nutrient needs of the relevant crops, in accordance with state legislation. Application is by dragline injection and centre pivot irrigation. Injection equipment incorporates GPS guidance systems and emergency shut offs. The company has three dragline crews, with each crew applying about 132,000 m 3 of effluent annually.
In terms of quality control, audits and assessments are carried out on a regular basis, whereby The Maschhoffs has a layered approach with a field adviser carrying out regular checks at each site. Major audits are carried out every few years. Looking to the future, The Maschhoffs is looking to develop ISO–like animal care quality management programmes.
[Source: Pig Progress magazine Vol 27 nr 6, 2011]