Optimal health and welfare of the sow before farrowing provide the best potential for successful farrowing and lactation. However, sometimes sows do not perform as expected during this key period, with a lack of energy during farrowing and poor milk production during lactation noted as key factors. Algae can help.
Glucose absorbed from the digestive tract and transported into the portal vein is the primary source of energy in swine. From the liver, glucose is either stored (as glycogen, or triglyceride) or redistributed to all parts of the body to serve as an energy source. It may also be stored as glycogen in skeletal muscle tissue for future requirements.
However, a disruption in this distribution occurs naturally during the third trimester of gestation. A disruption in glucose metabolism becomes problematic in a cohort of sows who are genetically predisposed (approximately 30%) to develop it, resulting in high blood glucose levels and ­subsequent metabolic syndrome.
Natural solutions to support sows
While delivering benefits to both sow and her offspring, algae can play a role in trying to overcome this issue. As seaweed is known to have immune-modulating bioactives and marine minerals, in the right mixture algae can improve sow herd health and performance. Benefits can include:
Optimising immune regulation;

Improving glucose metabolism; and

Improving muscle functioning.
The optimised immune regulation modulates the immune system of both the dam and her offspring by increasing the immunoglobulin concentrations in colostrum. That will help the piglets better develop their immune system and ­subsequently better withstand challenges post-weaning.
This knowledge all comes together in Prosea, a seaweed formulation produced and marketed by Celtic Sea Minerals. It consists of a calcified red algae and a proprietary processed extract from a brown algae.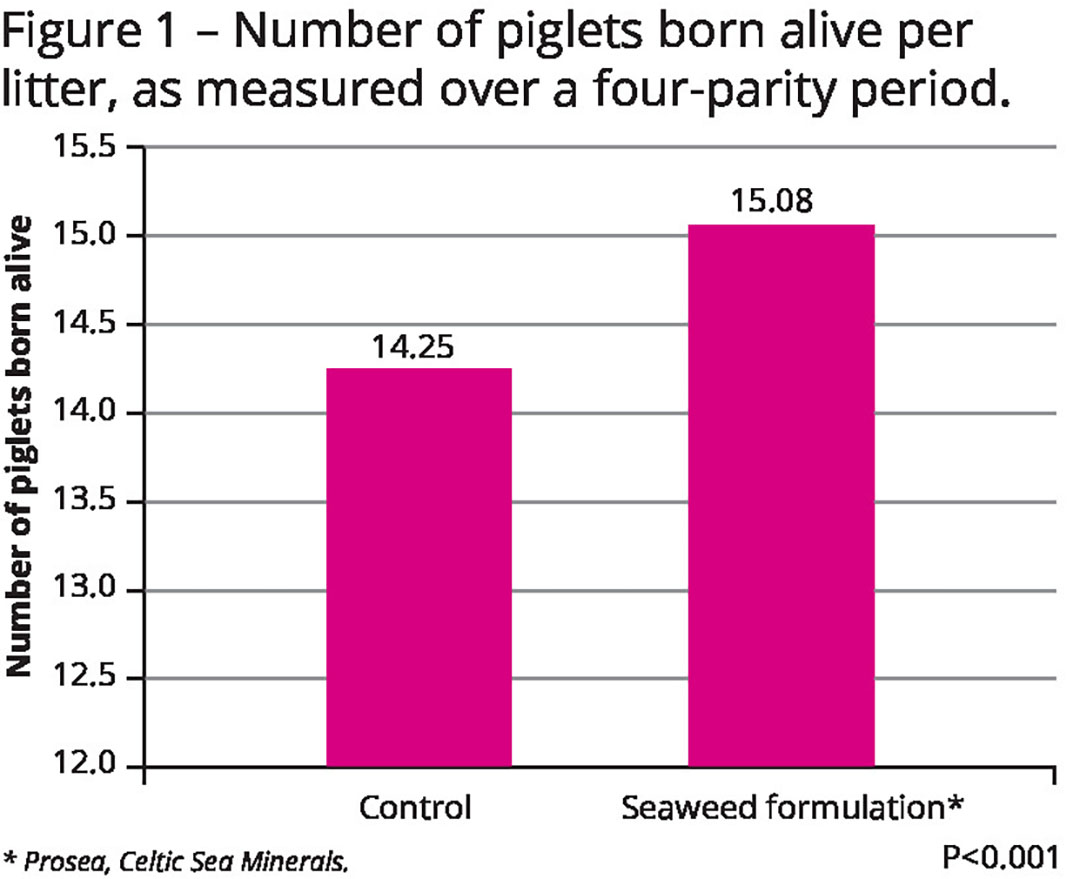 Optimised sow health and performance
The triple mode of action described above gives sows and their offspring the best opportunities for optimal performance. A four-parity study from 2022 showed remarkable results on sow performance. The results from this indicate that including the formulation in the gestation and lactation diets of sows enhances sow health and performance. It resulted in an increase of 0.7 piglets born alive compared to the control group (Figure 1) and one piglet extra weaned per sow per litter. These results are supported by a further meta-analysis performed over multiple studies.
Conclusion
In order to maintain sow health and improve piglet vitality, improving energy distribution in the dam shows promising results. The seaweed formulation with immune-modulating bioactives and marine minerals has shown great potential in enhancing energy distribution in the dam and subsequently increasing the number of piglets born alive and number of piglets weaned.
References are available upon request.