Research: A ventilation unit for pig farms that lowers ammonia emissions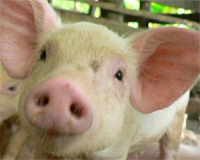 Scientists at the State University of North Carolina and West Virginia University have developed a ventilation unit for pig farms that reduces ammonia emissions while heating the fresh air being pumped in.
The additional costs of bio-filtration the researchers hope to offset by reducing the unit's energy consumption.
The prototype works by passing used air from the facility through the bio-filter, where some of the warmth is passed tothe heat exchanger.
Fresh air pumped in is heated as it passes over the heat exchanger.
Additional heat is created and transferred to the heat exchanger by the bacterial breakdown of the ammonia.
"The technology is best suited for use when an operation wants to vent a facility that has high ammonia concentrations, and pump in cleaner air in preparation for a fresh batch of chicks or piglets — particularly in cold weather," said Dr Sanjay Shah an associate professor of biological and agricultural engineering at NC State and lead author on the paper describing the research.
"It is also suitable for use when supplemental heat is required for raising the young animals."
It would be necessary, however, to replace the conventional cold weather ventilation fans with higher-pressure fans.
The technology is not compatible with summer ventilation using tunnel-fans, because of the high cost and choking effect on the fans.
The prototype removed up to 79 percent of ammonia and reduced the energy needed to maintain the necessary temperature in the facility — recovering as much as 8.3 kilowatts of heat.
The paper, "Coupled Biofilter — Heat Exchanger Prototype for a Broiler House," is published in the December issue of Applied Engineering in Agriculture.
The paper was co-authored by David Workman, Jarred Yates, Tom Basden, and Chestina Merriner of West Virginia University, and Dr. June DeGraft-Hanson of the University of Maryland.
The research was funded by the Energy Efficiency Program of the West Virginia Development Office.