Pig farming in Europe – meeting the four P's is essential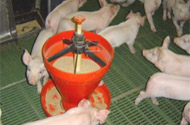 Pig producers of the future will survive if they will take into account the four P's of Pig, Profit, People and Planet.
An equilibrium between these four needs to be found, said Robert Hoste, pig production economist, attached to the Research Institute of Agricultural Economics of Wageningen University and Research Centre, Netherlands. He presented his views at a press conference related to the upcoming EuroTier show, held in Hanover, Germany, 16-19 November, 2010.
All pigs in the world
In his presentation, Hoste outlined that improvements in efficiency are needed to feed the estimated 9.1 billion people in the world by 2050. He said that if all pigs in the world would be raised the way it is done in the Netherlands, 44% less pigs would be needed to produce the same amount of pork. In short – there is a world to win.
Hoste added that pork producers "cannot produce pork just to make money." Using a Maslov pyramid, dating from 1943, he showed that topics like animal welfare and the environment have become part of the requirements of the modern, financially well-off society and that "they are going to stay."
Pigs in the 4P pyramid
In order to stay in business in the future, the conditions of the so-called 4P pyramid should be fully met:
People, who invest and take care of the pigs
Profit, the farm has to make money to safeguard its continuity
Pigs, animal well-being to meet consumer demands
Planet, in order to operate sustainably
Hoste added: "It is important not to turn the independent farmer as primary producer – who is often in the weaker position in negotiations – into a scapegoat. After all, without farmers there would be no production. That is why initiatives such as those in the Netherlands, where farmers are rewarded for special animal welfare inputs, are a good thing. They foster understanding and point up prospects for future developments."
Related websites: