People: New animal well-being programs leader for Tyson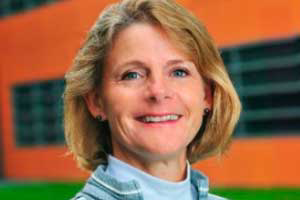 Dr Christine Daugherty has been named vice president-Animal Well-Being Programs and Technology, replacing Dr Dean Danilson who is retiring after 26 years with the company.
Daugherty will be responsible for leading the company's commitment to proper farm animal treatment. This includes overseeing the Tyson FarmCheck™ program, which includes third-party, on-farm animal well-being audits, working with an external Animal Well-Being Advisory Panel and commitment to additional research. She will also be responsible for managing Tyson Foods' animal well-being staff as well as animal handling training and audits at the company's processing plants.
A native of Iowa, Daugherty joined Tyson Foods in 2003 serving as an attorney and providing counsel in such areas as animal welfare, research and development, intellectual property and food safety. She was promoted to director of intellectual property and technology development for Tyson Foods in 2011 and two years later was appointed chief technology officer for Cobb-Vantress, a poultry breeding company owned by Tyson Foods.
Daugherty has helped provide strategic oversight for Tyson Foods' poultry research farm. She is an internal committee member for the FarmCheck program and serves as executive committee member of the Cobb-Vantress Animal Welfare advisory program. She is also on the US Poultry Foundation Research Advisory Committee that funds research projects that benefit the poultry and egg industry.
Daugherty has a PhD in life sciences from Louisiana State University and a J.D. from the University of Arkansas. She also has a master's degree from Iowa State University and a bachelor's degree from Central College of Iowa. Before joining Tyson Foods, she worked as a patent and trademark attorney for a northwest Arkansas law firm and was a research scientist at the University of Florida.