Eurotier – Big Dutchman Innovation – SonoCheck: Stress free sow pregnancy check/ view video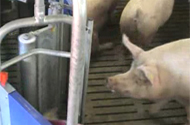 Big Dutchman's newly developed SonoCheck is a device for automatic pregnancy checking of sows in group housing which reduces the stress of ultrasound scanning to a minimum. The core part of the system was developed especially for the Big Dutchman ESF system CallMatic Pro and can be mounted on to the ESF station.
Every sow that enters the station is automatically scanned with an ultrasound scanner while she is eating thus markedly reducing the stress both for the sow and for the service personnel.
This is made possible by an animal-friendly compressed-air procedure which reduces the time for the entire pregnancy check to just 15 seconds. The ultrasound scans are recorded on video and are automatically analyzed by a special software. If the software does not come to a positive diagnosis, the farmer can examine the video subsequently on the computer.
SonoCheck has several advantages: thanks to the automatic process each sow can be checked several times. This increases the reliability of the diagnosis, prevents production losses and increases the number of litters per sow per year. SonoCheck furthermore helps to save valuable working time as the effort required to carry out a pregnancy check is significantly reduced. The system can be installed as mobile unit on all CallMatic Pro ESF stations, which keeps the purchase costs down.
To view the SonoCheck video: