Door alarm catches thieves – pig farm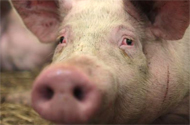 Theft on farms is increasing. Pig rustling is no exception and is not confined to free-range animals. Security of housed animals has become a big worry for pig farmers…
To overcome this, Farmex — the Reading, UK-based specialist Farm Energy and Control company — has developed a quick and easy way of improving security at a fraction of the cost of conventional systems.
The method uses the existing network facilities of the Dicam control and alarm systems already installed in many piggeries. Door sensors in each building are connected to the network which carries signals to a central alarm unit. Software in the alarm unit constantly monitors contact status. Once the system is activated, if a door is opened then an alarm is triggered. This can operate an existing siren, dial up a landline or cell phone and/or send a text alert, giving the exact location of the break-in.
Door alarms, easily fitted to both new and existing Dicam controller networks, can cost as little as £50 per building. Installation is easy since using the control network in this way reduces wiring by over 90 per cent," said Farmex managing director Hugh Crabtree, who points out that the value of pigs in even an average-sized finishing house can amount to many thousands of pounds.