The human and porcine population in Bulgaria had something in common over the last 30 years. The numbers were much higher about 30 years ago, and have fallen since – but things seems to be stabilising now.
As for humans – in the 1990s, the country's population grew, which at its height reached almost 9 million people. In the following 20 years, however, Bulgaria's population decreased to little less than seven million people. This was largely in line with the entire economy taking a dive. Gross Domestic Product (GDP), at its highest in 1988 with US$ 28.43 billion, fell back to only US$ 9.7 billion in 1995.
In this timeframe, a similar tendency could be spotted, although pig figures fell more tremendously. As Figure 1 shows, the total pig inventory was as high as 4,352,000 in 1990. Years of reduction followed; nowadays, however, pig numbes in Bulgaria have stopped falling drastically and were at 530,000 in 2013.
Bulgaria's pig industry – some history
The demographic developments in pigs as well as humans cannot be understood without a proper look into history. By the late 1980s it had become clear that the country needed a change of direction, away from its communist approach. After the implementation of a democratic political system and a free market economy, however, the economy took an even further dive at first, with standards of living falling by about 40%. It took until 2004 before the economy was at the same level again as in 1989. The liberalisation of agricultural policies and the preparations for the development for a land market in 1997 were part of the resurrection.
What followed was a period of growth between 2003 and 2008, which was boosted by the European Union (EU) membership. In this time, the economy grew by an average 6% per annum. Like most countries though, Bulgaria was hit by an unexpected financial crisis in 2008, but has suffered less than most other countries in Europe. GDP in 2008 was $ 53.32 billion compared to $ 54.48 billion last year, showing a small growth again.
Large cooperatives vs backyard
Around 48,000 km2 or 43% of the total Bulgarian surface of country is arable. Most of the field crops consist of wheat, corn and barley. Industrial crops were once very important for the country, but sugar beets, sunflowers and tobacco have lost ground recently. An estimated 11% of the labour force works in the agricultural sector. The major part of the population is active on the job market, with 56% in services, another 33% in the industry.
Poultry, pigs, cattle, sheep and buffaloes have been the dominating species in livestock. One major way of producing pigs these days is in large cooperatives that came into existence after years of decentralisation and privatisation. By 2004, large cooperative companies had been founded and 98% of the agricultural market had been privatised.
Besides pig production inside the large cooperatives, Bulgaria shelters a significant backyard production. The latter is an important support for some parts of the population. In 2010 the number of farms with breeding sows which counted one or two heads was 13,340 compared to 1,530 farms between 3 and 49 heads and 160 companies with 50 to 199 heads.
Pork meat consumption
Bulgarians are known for their love of pork, as pork is good for 40% of the country's meat consumption. The total meat consumption per capita is 45.3 kg per year. Between 2002 and 2009, the meat industry experienced a major growth of about 40%. Partly due to the financial crisis, meat consumption stagnated afterwards. Because of the rebounding economy, experts expect a 19% growth in the next five years, given that the total economy reaches the forecasted 3% yearly growth. A recent analysis of the meat product market in Bulgaria by the Institute for Market Economics shows that Bulgaria needs aid from other industries or investors to become self-sufficient in meat production. At this moment, the meat production industry does not have the capacity to fulfil this goal.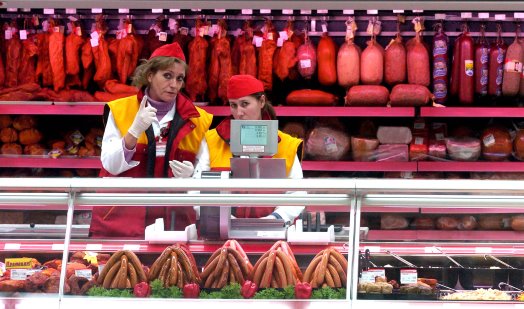 Ready for customers: meat counter employees at a supermarket in Sofia, Bulgaria. Photo: Ju1978 | Shutterstock

The World Organization for Animal Health (OIE) reports that Bulgaria's domestic pigs are free from dangerous viral diseases. Aujeszky's Disease, Classical Swine Fever (CSF) or Foot-and-Mouth Disease (FMD) have not been reported since 2007, 2008 and 2011 respectively.
Pig production – future looks bright
Despite its hiccups in the past, Bulgaria's future for pig production looks bright. The pro-business government has been stimulating entrepreneurship through various schemes and aid. A notable example is the 10% tax-rate, being Europe's lowest. All this, to create a growth climate, which has worked fine in the last couple of years, seeing the relatively fast recovery from the financial crisis. In the pig industry, it is expected that large agricultural companies, will play an increasingly large role.
One example of a modern large agricultural company is Agrotime. It possesses and runs one of the largest pig operations in Bulgaria, with a capacity to produce up to 60,000 pigs/year. Its modern pig unit operates with predominantly Danish and Dutch breeds (Danbred and Topigs). The company states to be working on the reconstruction of the pig farm premises. The majority of the buildings are completely renovated and furnished with equipment for automatic feeding and climate control.
It is companies like these that can get maximum profit from the pro-business climate. The already fast disappearance of the backyard and small pig companies will go ahead and will be catalysed by economic growth in the country.
Bulgaria at a glance
The diverse country of Bulgaria, south of the river Danube, shelters the Balkan Mountains and merges into the Black Sea. The republic of Bulgaria takes account of almost 7 million people and has a surface of about 111,000 km2, in size comparable to Ohio, USA. About 1.2 million people live in the capital city Sofia. After the Second World War, Bulgaria became a single-party communist state until 1989. Allowing multi-party elections started the transition into a democracy and market-based economy. Bulgaria became a full member of the European Union in 2007.