Australia's huge land area relative to its population of 24 million has made it the third least densely populated country in the world, after Namibia and Mongolia. The country's population can be described as 'coast-huggers', meaning that the logistics of production and distribution of meat around a very large land mass are tricky, and relatively expensive. Australia's size and the logistical needs of its population, its water-deficient climate, and its economic dependence on mining and commodity exports present its agricultural economy and meat supply chain with particular challenges.
Australian politicians have generally favoured the liberalisation of economic policies at home and abroad and Australia has made free trade agreements with ASEAN, Canada, Chile, Korea, Malaysia, New Zealand, Japan, Singapore, Thailand and the United States. In October 2015, 12 countries including Australia and the USA signed the Trans-Pacific Partnership Agreement (TPPA) which is claimed to be the world's biggest free trade area covering around 40% of the world's economy. Talks on an EU-Australia FTA have just begun and the European Commission is thought to want to have this concluded by 2018. Currently, trade and economic relations are dealt with under the EU-Australia Partnership Framework of October 2008.
Strict biosecurity
Australia's pig industry also has special challenges to deal with. The country's biosecurity rules are notoriously strict and affect external trade across all crops, animals and livestock products – even affecting internal trade between different Australian states. Pig semen imports are not permitted from any country. Further, the import permit restrictions for grain are complex and resource intensive depending on the nation where grain is sourced. Since Australia suffers periodic droughts this means that intensive livestock sectors such as the pig industry can be placed at a competitive disadvantage when drought-affected domestic grain prices rise and access to global supplies is restricted.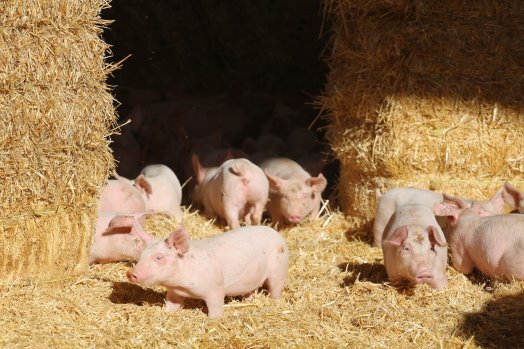 Weaner piglets on straw bedding at a farm in Australia, a country known for its arid/semi-arid climate. Photo: Peter Bedwell
The most recent data that describes the Australian pig industry suggest that it is a) relatively small and b) relatively unproductive, and c) its pork processors are battling competitors at home and abroad. The total pig slaughter for 2014 was 4.9 million head whilst pig meat production was 370,000 MT. These pigs were produced by around 1,500 farmers from a sow herd of 255,000 animals. With around 20 pigs produced per sow per year that puts Australia's farm productivity near the bottom of the global league table. In the US and Canada production would be around 24 pigs per sow per year and the typical European pig farmer would expect around 26 or 27 pigs per sow per year (30 in Denmark). This productivity gap may be an indirect result of Australia's rigorous biosecurity rules. Although these rules have ensured that the industry has not suffered from any major animal disease outbreaks, the price may be that Australia's pig genetics are underperforming.
Australians face a serious fight to achieve scale and to hold on to their domestic market and their overseas markets. There are less than 50 abattoirs in the nation and seven of these are export accredited. These (larger) plants slaughter and process four fifths of all the pigs produced in Australia. That amounts to an average plant throughput of around 11,000 pigs per week. JBS bought the Primo Smallgoods Group, a producer of ham, bacon and smallgoods, in March 2015 for US$ 1.25 billion, but even JBS may have difficulties competing in South Korea, Singapore and China if Australia's costs of production, technical KPIs, and slaughtering scale are out of line with global benchmarks.
In 2014, exports of pork products from Australia were c. 40,000 MT to a range of countries including Singapore, Hong Kong, Japan and New Zealand. Export trade is likely to be encouraged in the future by the various bilateral trade agreements which have been implemented recently. The Korea-Australia Free Trade Agreement (KAFTA) signed in April 2014 will phase out tariffs on pork products over 5-15 years. Also Australia's 'super' animal health status may have helped to establish exports to Japan where its disease-free production status of pork is favoured and more Asian countries may find this attribute attractive to their consumers. Under the Japan-Australia Economic Partnership Agreement (JAEPA), Australia will gain preferential access for a large volume of pork (more than ten times current trade) via an Australia-only quota.
Restricted imports
Pig meat imports in 2014 were c. 150,000 MT with the United States, Canada and the EU (mainly Denmark) the largest suppliers. The Australian market is not currently open to imports of fresh, chilled or bone-in pork products on biosecurity rules but, according to the USDA, nearly three quarters of the ham, bacon and smallgoods consumed in Australia are made from imported frozen pork. Australia's packers are facing serious challenges from the import of pig meat from the biggest exporters and some of their traditional export markets for fresh pork and pig meat in Asia.
Australia's exports to the latter markets have, until recently, been disadvantaged by the strength of the Australian dollar but the decline in mining and metal exports has seen the Australian dollar weaken and that should be good news for pork exports. Significantly, access to pig meat imports from abroad was made easier for Australia's competitors in the last 10 years and that access is not likely to be curtailed. Figures 1 and 2 highlight how the 'pig meat trade gap' has grown wider in Australia in recent years.
Australians annually consume around 23.5 kg of pork per person, made up of 9.8 kg of fresh pork and 15 kg of processed ham products such as bacon and small goods. Pork products account for 10% of total fresh meat retail consumption. Fresh pork sold in Australia is locally grown while around two thirds of processed pork products (ham, bacon and small goods products) are made from frozen boneless pork imported from Denmark, Canada and the United States. Australia Pork, the producers' national body, believes that it can grow demand by farmer-financed generic pork advertising.
Australia at a glance
Australia has a population of just under 24 million and is one of the top five economies in the Asian region with a GDP in 2014 of US$ 1.525 trillion placing it at number 12 in the league table of global economies. The largest country without land borders, it is the driest inhabited place on earth. Home to 10% of the world's biodiversity, a great number of the country's flora and fauna exist nowhere else in the world. The pork industry, contributing approximately AUS $ 970 million to Australia's GDP is represented by Australian Pork Limited, a producer-run company with additional research funds provided by the government.