Andrew Knowles wins David Black Award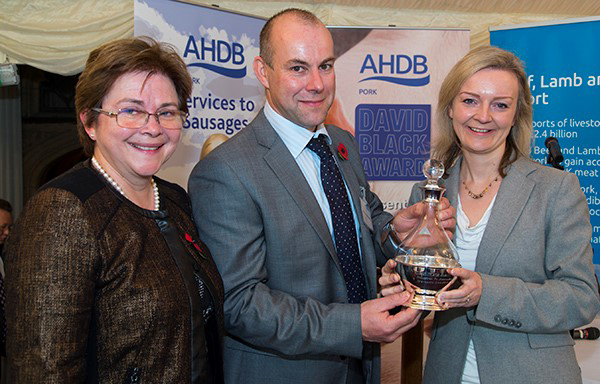 This year's edition for the David Black Award has gone to Andrew Knowles, formerly head of communications, knowledge transfer, research and development for the British Pig Executive (BPEX – now AHDB Pork).
The award has been given every year since 1960 to somebody who has made a significant and sustained contribution to the British pig industry. He was chosen last week by a panel of independent judges and received his award from Defra Secretary of State Liz Truss at an industry breakfast held in the UK's House of Lords.
Absolutely stunned – simply doing his job
Earlier this year Knowles moved on to join ForFarmers as marketing director, swine. In a press release, Knowles commented, "I was absolutely stunned and I was also in a bit of a dilemma about accepting it as, to my mind, I was simply doing my job and there is nothing exceptional in my work for the industry."
Knowles started his career as an agricultural business consultant for a national company providing financial and technical management advice to pig, arable, vegetable and root crop farmers and agribusinesses in East Anglia and then North East England and East Scotland.
Foot-and-Mouth Disease outbreak
He joined BPEX as the strategy co-ordinator in February 2001 a week before the Foot-and-Mouth Disease (FMD) outbreak. He was appointed head of communications and supply chain development in April 2009 extending to leading the BPEX Knowledge Transfer Team in 2011 and was appointed BPEX Head of Technical in April 2014.