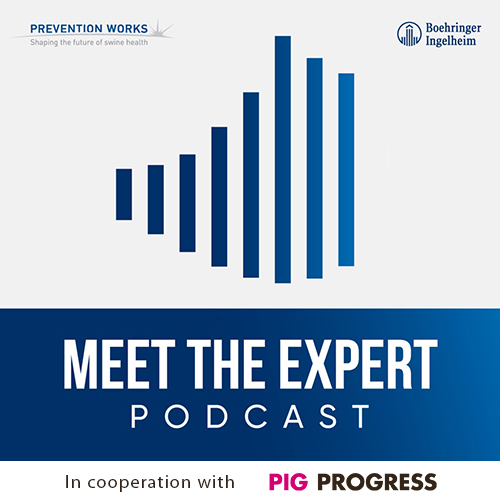 Welcome to our Meet the Expert podcast, a series on swine Health and Management brought to you by Boehringer-Ingelheim, where Global opinion leaders answer your most relevant practical questions. Every second Monday you can find a new episode of Meet the Expert either on the Pig Progress website, or through your favourite podcast app. Click the buttons below to follow the entire series or just start listening.
---
#3 Prof Dr Daniël Berckmans – Precision Livestock Farming
Producing pigs more sustainably can be achieved in many ways. Precision Livestock Farming (PLF) is one of them – after all, with technology it is often possible to determine at very detailed level what certain pigs need in terms of feed, temperature, ventilation or medication. By applying a targeted treatment, better results can be achieved with minimum input. The guest in this 3rd episode of Meet the Expert is Prof Dr Daniël Berckmans, of Leuven KU in Belgium, who is well-known for his attempts to make PLF more applicable in livestock production.
---
#2 Prof Jim Lowe – Getting work done through others
Veterinarians rely on others for our success. Identifying disease, treating disease, implementing biosecurity, conducting vaccinations, and most importantly to choose a course of action are all out of control regardless of farm size or ownership structure. This podcast discusses nearly 30 years of "lessons learned" in addressing health and production challenges in systems across the globe and how life can be easier using principles from the science of leadership.
---
#1 Jordi Baliellas – Using tongue tip tissues for PRRS monitoring
When carrying out surveillance to detect PRRS virus presence in a herd, there are various ways to do so. In recent years, a new and effective method was developed by Spanish veterinarian Jordi Baliellas, attached to the Grup de Sanejament Porci (or Pig Hygiene Group) in Lleida, Spain. He opted for taking tongue tip samples – and that works very satisfactorily. In this first episode of the third Meet the Expert podcast series, Boehringer Ingelheim Animal Health and Pig Progress get to know all there is to know about tongue tip sampling for PRRS virus.