Vostermans Ventilation: New version Basket Fans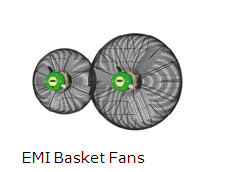 Vostermans Ventilation released a new version of the EMIBasket Fan. The fans are provided with streamlined grills, which are also easy to mount and enable a durable unit.
The EMI Basket Fans are well known for their:
·
Simple, user-friendly construction
·
High efficiency (Watt/ m³)
These recirculation fans can be applied as support ventilation in pork houses. Due to the air movement around the pigs a comfortable climate is created.
The large choice in frequencies, voltages, dimensions and materials (stainless steel impellers) and the high quality level makes them suitable for all types of pork houses.