VIV Asia 2011: Strong rise in exhibitors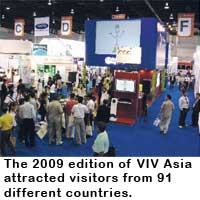 The 10th edition of the international trade show VIV Asia will be much larger than its previous edition. The next edition of the international show for pigs, poultry, cattle, aquaculture and feed, will be held 9-11 March 2011 in the Bangkok International Trade and Exhibition Centre (BITEC), Thailand.
For the first time, a third hall will be added to accommodate the 650 suppliers that will come to exhibit their products, which is 100 more than at the previous edition.
Total show flooring will exceed 15,000 m2, hosting companies from more than 45 countries. The previous edition, held in 2009, counted 12,500 m2 of floor space. The 2009 edition of VIV Asia attracted visitors from 91 countries. The 2011 issue of VIV Asia aims to attract 22,000 visitors from 95 countries.
Show manager Ruwan Berculo, VNU Exhibitions, says that many companies chose to exhibit in Bangkok after VIV Europe, held in April 2010 in Utrecht, the Netherlands, had been somewhat disappointing due to a volcano outbreak in Iceland. This effectively blocked air traffic for some crucial days prior to the show. Other novelties at the show include:
• the co-location with the show Aquatic Asia;
• a Feedtech/Croptech Asia forum;
• a ChinaVision, focusing on business with China;
• future projections at Focus 2021, together with Rabobank – focusing
on business in ten years from 2011;
• a New in Town pavilion, showing all newcomers at the show;
• a food and feed safety technology focus at LAB@VIV Asia.