UK: New research projects to help pig farmers improve performance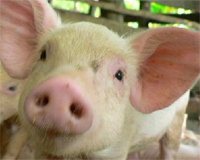 An initiative started in 2009 to help pig farmers improve their performance, using developments in IT and monitoring expertise, has come to fruition with the simultaneous launch of two major projects with a total funding of £459,000.
The first, called PIVIT Yorkshire (Pig Improvement via Information Technology), involves
12 production sites in Yorkshire and is 50 per cent funded by Defra and the EU through the Rural Enterprise Investment Programme. The rest of the funding is being provided by the producers involved.
Supported by BPEX, NPA and Wm Morrison Supermarkets and managed by Reading-based farm energy specialists, Farmex Ltd, the aim is to find out how producers and stock-people can gain commercial advantage from remote monitoring of production sites.
The project is scheduled to take place over a two-year period with quarterly reports to a management committee. The farms and farming organisations involved are Yorkwold Pigpro, Driffield; J C Lister (Farms) Ltd, Boroughbridge; T A & J B Stephenson, York; Middlecave Ltd, Richmond and Melrose Pigs Ltd, York.
"The objective is to focus on the people involved and find out how commercial advantage can be routinely gained from remote monitoring of production sites using existing tools and knowledge. This will be achieved by a combination of training, knowledge transfer and technical support," commented Farmex managing director Hugh Crabtree.
The second project under the TSB-SPP (Technology Strategy Board — Sustainable Protein Production) programme, aims, over a three-year period, to develop new IT tools to automate data analysis and simplify access to it.
This is 50 per cent sponsored by the Technology Strategy Board with the remaining funding coming from consortium partners, Farmex Ltd, Dicam Technology Ltd of Halesworth, Suffolk, and ARM Buildings Ltd, Rugeley, Staffordshire. Newcastle University will provide data analysis through its Industrial Statistics Research Unit ARM Buildings, which already provides free monitoring systems in its new buildings, will provide a stream of data from practical pig units and Tim Miller ARM's environment specialist will act as on-farm co-ordinator. Again, Farmex will be managing this project.

Over ten years Farmex has developed sophisticated and world-leading control and monitoring systems for piggeries and crop stores. Sensors are used to monitor vital factors, such as temperature, electricity, water and feed usage, and can transmit information to a farm's computer for analysis on a 24-hour basis. Not only does the farmer have advanced warning if something is going wrong, work in the United States has shown that the information can actually be used to predict impending disease issues. UK monitoring has already seen energy savings worth thousands of pounds on many farms.
However, it is felt that the average farm with monitoring equipment doesn't exploit the financial and management benefits to their full potential.
"Modern IT systems offer great potential to benefit animal performance and welfare by real-time data collection, timely alerts of day-to-day husbandry problems and focussed reports to aid more strategic management decisions. These two projects will allow practical systems to be further developed and their value to the pig farmer to be clearly demonstrated," said Sandra Edwards, Professor of Agriculture at Newcastle University and a member of the PIVIT Initiative team.
"The availability of broadband internet access in rural areas means that production sites can be permanently on-line. New software tools, which the project will develop will allow rapid processing and feedback of digestible information to individual units," commented
Hugh Crabtree.
"While there is no formal dependency between these projects, it is really exciting that we have the opportunity to run them concurrently as they are so closely related," he added.