Thailand is one of the 'tiger cub economies' in South East Asia (the others are Indonesia, Malaysia, the Philippines and Vietnam) that are on a similar, albeit slower, economic growth trajectory as the original Asian tigers (i.e. Hong Kong, Singapore, South Korea and Taiwan). But the pig and pig meat supply chain in Thailand is more of a 'tiger' than a 'tiger cub' since it is much more advanced than is seen in its neighbouring tiger cub countries in South East Asia.
A large proportion of pigs and pork is already produced by large commercial farms in Thailand and there are two large integrators which have scale, know-how, export capacity, and the willingness to sell and invest overseas. The country also has a resilient and growing tourist population which helps boost local demand directly and through improved consumer incomes and employment. This last point represents a lot of spending power, one source estimates that travel and tourism generated almost 20% of Thailand's GDP in 2014 (US$72 billion and 5.4 million jobs). However, the Thai pig industry and its developing value chain is held back by price volatility, animal feed resources, and the incidence of Foot-and-Mouth Disease (FMD). There is an ambition and a plan to create an FMD-free zone in Thailand and, if this comes to pass, the Thai pig industry could take a big leap forward.
Pig breeds in Thailand
The two categories of pig breeds used in Thailand are: the native breeds, for example, Raad or Ka Done, Puang, Hailum, Kwai and wild pigs; and the main commercial breeds, including the Large White, Landrace, Duroc, and hybrids of these types. The former group is found in backyard farms and the latter in the modern commercial farms. In Thailand around half of all the pigs are born and reared on commercial farms (some estimates put the proportion of pigs on Thai commercial farms as high as 80% of the total) compared with less than 10% in Vietnam and Cambodia. Approximately 10% or fewer pigs come from backyard farms in Thailand whereas in Vietnam the number is near to 90%. The productivity of pigs is higher at commercial farms of course and the number of pigs weaned per sow per year will be 25-50% higher and the amount of meat produced per sow per year more than double than that produced in backyard operations. To put these figures in context, the Thai managed to produce about 1.1 million tonnes of pig meat from around 15 million pigs in 2012, whilst the Vietnamese needed 49 million pigs to produce 3 million tonnes of pig meat in 2013. In broad terms that's a 20% edge in efficiency for the Thai.
Figure 1 – Thai pigmeat export growth (%).
Thailand's domestic production of pig meat was 1.06 million tonnes in 2015. That's a growth of about 3%, encouraged by higher prices and margins in 2014 – and a significant recovery from 2009 when production dipped to around 0.92 million tonnes. The Office of Agricultural Economics (OAE) forecasts that production in 2016 will also be up by a little less than 3% but the drought and hot weather in 2016 may have held swine production back and at the half year mark exports were down by 12% in 2016. Diseases, such as FMD, are an obstacle for fresh pig meat exports from Thailand and other countries in South East Asia. Hence, the domestic market accounts for +95% of the pork produced by the Thai. The export data show the impact of FMD on the market opportunities for Thai pig producers, with most of the exports being in cooked form. The principal market is Japan. A plan to create an FMD-free zone in Thailand has been mooted since 2013 but the zone hasn't been certified by the OIE yet.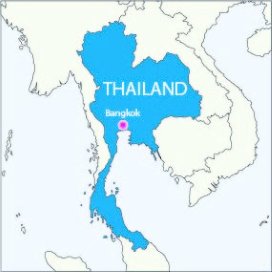 Thailand at a glance
Thailand is located in the heart of South East Asia. The country has an area of approximately 513,000 km2, the 50th largest country in the world, slightly larger than Spain. In total 41.2% of the country's surface is being used for agriculture. The country's population is currently 68 million, of which 95.9% is ethnic Thai, of which the vast majority are Buddhist. Natural resources include tin, rubber, natural gas, timber, fish and of course rice. The country has the second largest economy in South East Asia, behind Indonesia, with an income of $16,100 income per capita. In total 32.2% of the population are working in agriculture.
Two integrators in pigs
The two big integrators control around 40% of the Thai pig and pig meat supply chain. The larger of the two is Charoen Pokphand Foods (CPF) and this agro-industrial and food public company includes livestock and aquaculture: swine, broilers, layers, duck, shrimp and fish. It operates in 14 countries and in 2015 its total sales were around $12 billion with a gross profit margin of nearly 14%. The other major Thai integrator is the Bangkok-based Betagro group. It has interests in feed production, a hatchery, poultry and swine-raising, fresh and frozen chicken-processing, hygienic pork-processing and frozen SPF pork product-processing. It exports to 30 countries and expects its whole-year revenue to reach about $3 billion, of which about one third will come from agribusiness and two thirds from food. Revenue was just under $3 billion in 2015.
Figure 2 – Pigmeat exports from Thailand, tonnes.
Overall, it's clear that the pig meat supply chain in Thailand is ahead of its neighbours and that the Thais have major companies that are big enough to produce more pigs and drive fresh pork exports – but that will have to wait until the FMD issue is resolved. For the moment, further consolidation and expansion is probably on hold in Thailand and direct investment in foreign markets is the most likely activity for the key players.