Taiwan disputes proposed pig FMD vaccine plan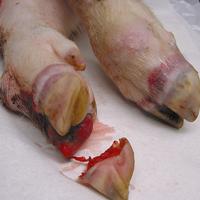 The Taiwanese Swine Association is strongly urging the local government not to vaccinate the country's pigs against foot and mouth disease (FMD).
Recent outbreaks of FMD at two farms in Yunlin and Changhua counties, prompted the Council of Agriculture to reportedly resume the practice nationwide even though the practice had all but been eliminated in the country.
Swine Association Chairman Pen Lien-chou said the reported move would waste the efforts of the past 12 years to build a "zero-vaccine" environment in Taiwan, a key requirement needed to be designated as FMD-free by the Paris-based World Organization for Animal Health (OIE).
Taiwan launched a programme beginning in April 2007 to stop giving pigs anti-FMD vaccines. Through the programme, the proportion of pigs on the island not receiving vaccines increased from 10% in 2007 to over 90% as of November 2008. FMD vaccinations were expected to be terminated in March, but the schedule has been disrupted due to the recent outbreak, Pen said.
Taiwan once raised as many as 12 million pigs per year at its peak, with 7 million exported to Japan annually. Exports have stopped since the outbreak and Taiwan now raises about 6.4 million pigs a year, mainly for local consumption.