Taiwan: Ban on pork meat and pigs may be be lifted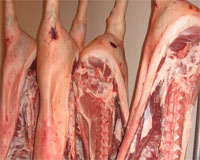 Recently Foot and Mouth disease caused a ban to be placed on the slaughter of pigs for meat in Kinmen, Taiwan, however, the ban may soon be lifted…
The report by the World Organisation for Animal Health (OIE) stated that there were two pigs farms which had been affected with the disease, all 530 pigs at the farms were destroyed and the cleaning and disinfection of the farms were completed.
Following the discovery, a ban was then placed on the shipment of raw meat and livestock from the offshore county to Taiwan. The ban includes the sale of raw meat and livestock from farms within a 3km radius of the two farms which were affected by FMD.
Huang Kuo-ching, the deputy director of the Council of Agriculture (COA), has stated that since the 530 pigs were destroyed the disease situation has not escalated.
If there are no reported cases within two weeks, then the bureau will lift the current ban.
However, livestock farms within the 3km radius will still be monitored.