Say 'cheese': Pigs in the picture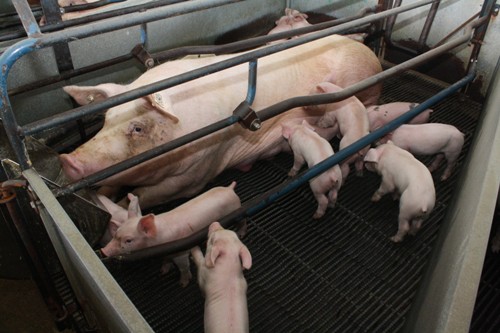 Pigs may be among the toughest – if not the toughest – objects to photograph. Every farm visit usually ends with some disappointment when finally viewing the images on a bigger computer screen.
Why? Well, first, like most animals, pigs tend to move, run, shake, be restless and act unexpectedly. Haven't come across any of them that sat still and smiled at my camera. Once I saw a professional photographer sitting in the middle of the pen, waiting patiently for the pigs to have calmed down and to come to him. Took some time.
Secondly, there's usually a lot of iron in my way. Especially sow stalls make good photography rather difficult. Sows or piglets often go hiding half between stainless steel pipes.
Thirdly, there's a problem of lighting. Pig houses usually are dark inside – and a flash is required.
Nearby pigs
A flash in conventional cameras will do the trick for the first set of pigs nearby. They will appear sharp, although their complexion is rather pale and their eyes are sometimes red. They are, however, surrounded by darkness, with here and there stars – eye reflections of invisible pigs in the background.
A conventional flash and stainless steel pipes is not a good combination either. They leave annoying sharp shadow marks over pigs' heads.
No flash?
So what to do? Photographing without a flash? That is hardly an option, with dark pictures, or me being totally dependent on occasional outside light. One solution is to use the 'night mode'. This automatically extends the shutter speed in combination with a flash. Although it gives the picture a warm colour, this is where the first problem, mentioned above, sets in. A long aperture time does not go well with moving pigs, with the result of the aforementioned disappointment – due to movement.
The only workable solution for me used to be to snap away as much as I could – there would always be something that would be useful.
External flash
Hardly a professional approach though – and therefore I recently decided it was time to invest in this much-needed element to my camera – an external flash, which can point at an object or at the ceiling. Today, during a farm visit in North Carolina, USA, was the first day I could try it out on a herd of pigs and the photographic results pleased me.

And yes, finally, that is a first!
Colours are softer, shadows are less pronounced and this in combination with pigs being portrayed sharp.
Take a look for yourself – and don't forget to add your ideas or comments!