Russian / US trade deal paves way for Russia's WTO accession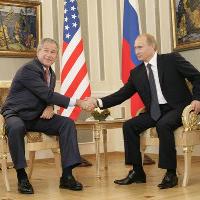 The United States have agreed in principle to approve Russia's membership to the World Trade Organisation, after extensive bilateral trade talks.
The deal is expected to be signed by Russia's Presidents Vladimir Putin and the US President George W Bush at the upcoming Asia-Pacific Economic Cooperation (APEC) summit in Vietnam.
If the deal is confirmed it will end 13 years of negotiations.
Russia had hoped to seal the deal at the G8 Summit in St Petersburg in July, but talks broke-down after the two sides could not agree on an inspection system for US pig meat. It is still unclear how the issue of inspection has been resolved.
Russia is a big importer of agriculture products and has set up a system of tariff quotas to regulate imports of beef, pig meat and poultry meat. However, Russia had threatened to withdraw these concessions if no WTO deal was done before the end of the year.
Related links :
Related articles:
For the latest pig news subscribe here
Photo: US President, George W Bush & Russian President Vladimir Putin shaking hands before G8 in July 2006