Revolutionary new 'mini-pigs' as household pet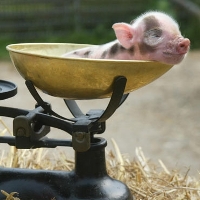 New pocket-sized pigs being bred on a farm in Devon, England are the latest craze to hit the household pet world.
Currently, there is a waiting list of one year for the pint-size pigs bred on Pennywell farm. Co-owner of the farm, Chris Murray said that he began cross-breeding the pigs nine years ago "for children to cuddle".

These mini-pigs are sold in pairs where possible so they have company at night.

British TV presenter, Jonathon Ross, is reported to have purchased two of the pigs for US $300.

Murray emphasised the importance of keeping these pigs fit and not fat like all other pets.