Reminder: Two more weeks until Janssen Pig Management Award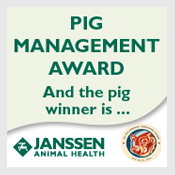 Within two weeks it will be clear who will be the big winner of this year's Pig Management Award. The winner will be made public at the upcoming edition of the International Pig Veterinary Society (IPVS) Congress, held in Vancouver, BC, Canada, later this month.
The prize, an acknowledgement for the best veterinary paper that touches on management issues at the biannual Congress, is awarded by Janssen Animal Health and is co-sponsored by
www.PigProgress.net
and
www.VetsWeb.com
.
©
It is the fourth time that the prize will be awarded. Previous Award winners were Prof Stefan Hoy (2004), Dr Elisabeth Nielson (2006) and Dr Theo Geudeke (2008).
©
Oral presentation
Behind the scenes, the process of selecting a winner has been going on for some months. Early June, an international scientific jury of well-known swine veterinarians gathered in Brussels, Belgium.
©
They had the heavy task to reduce a longlist of approximately 40 management-related oral papers to elect a shortlist of the five most promising papers.
©
Various criteria were important:
* Is the information new and relevant for the international pig sector?
* Is the emphasis on control strategies?
* Does the research paper have any practical benefits for the veterinarian?
* Do the study results in the paper increase the economic benefit for the farmer?
©
Besides these criteria the papers were also scored for their scientific and practical value and judged for the way it was presented as a paper. Eventually, full consensus was reached about the winner – who will be revealed in Vancouver.
©
Attending the event?
This year's Pig Management Award will be presented on Monday, 19 July 2010, at the Fairmont Waterfront Hotel, Vancouver, BC, Canada, from 6.15 until 7.15pm. Attending the award presentation is simple –©please click on the banner or go directly to the site
www.janssenanimalhealth.com.
©
©
Related news items:
Committee meets to select winner of the 4th Janssen Animal Health Pig Management Award 22 Jun 2010
©
Related websites:
©