Racing pigs delight crowd at county fair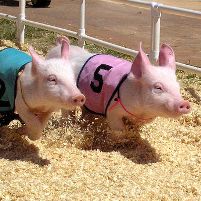 The gates opened and they were off, down the nearly 80-foot sawdust track right into a bowl of … pig feed.
The All-Alaskan Racing Pigs, a team of eight 3-month-old piglets, delighted the crowd with their speed, determination and brightly colored racing sheaths at the Alameda County Fair.


They competed in four races, including three in which they jumped — and subsequently knocked down — two 12-inch hurdles that were actually taller than they are.


Bill and Lee Kelly of Livermore said they've come to the pig races for four years. "It's something you don't see every day and they are just so cute" the couple commented.