PRRS spreads quickest on humid, cool days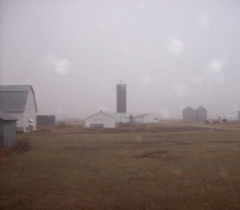 The ideal weather condition for the airborne spread of PRRS is a humid, cool day with rising pressure and low sunlight levels.
This knowledge Dr Satoshi Otake, University of Minnesota, shared with his audience at the latest International Pig Veterinary Society (IPVS) Congress, at Jeju Island, South Korea. He spoke at the Boehringer Ingelheim satellite symposium.
Dr Otake discussed the outcomes of the extensive research at the university to (airborne) transmission of Porcine Reproductive and Respiratory Syndrome (PRRS) and what strategies may work best to avoid contamination.
He showed both pictures below to illustrate conditions of a high risk (top) and a low risk (bottom) situation.
A high risk weather situation for PRRS aerosol transmission.

A low risk weather situation for PRRS aerosol transmission.
Conditions
Meteorological conditions associated with airborne PRRSV would be:
• Cool temperatures: -2.6 degrees C to 4.8 degrees C
• High relative humidity: 77-82%
• Rising pressure: 979-984 hPa
• Low sunlight levels
The research also focused on air filtration, as the university's research team stated a hypothesis that sustainable freedom from PRRSV in a swine-dense region is dependent upon air filtration. The research covered 1,438 days (from June 2006 until November 2010), utilised 4,744 pigs, tested on Mycoplasma hyopneumoniae next to PRRS virus, tested three types of filters (mechanical, antimicrobial and electrostatic) and collected 38,519 samples from different sources.
With regard to filter efficacy, Dr Otake referred to his results, published in Virus Direct: "While all types tested successfully prevented airborne transmission of PRRSV and M hyo, differences were observed in their ability to prevent airborne transport."
Risk factors, he said, associated with airborne PRRSV were:
• Neighbouring source population actively shedding virus via aerosols
• Directional winds moving from a shedding source to an at-risk population
• Winds of low velocity (1.4 to 1.9 m/s) with intermittentgusts (2.8 to 3.7 m/s)
Controlling PRRS
The take-home message of his speech, was a positive one. Dr Otake summarised: "For the first time since its emergence, 'sustainable freedom from PRRSV' in a swine-dense region is now possible to achieve and maintain for significant periods of time. The importance of all the basic biosecurity practices for people, fomites, transport, etc. should not be forgotten."
The satellite symposium by Boehringer Ingelheim was titled A Comprehensive Approach to Swine Respiratory Disease. It featured practical ideas on controlling important respiratory diseases in pigs. The company produces and markets vaccines against PRRS (Ingelvac PRRS) and M hyo (Ingelvac MycoFlex).
Related websites:
• IPVS 2012
• University of Minnesota
• Boehringer Ingelheim