PRRS spreads in Burma with over 1,000 pig deaths, OIE issues emergency warning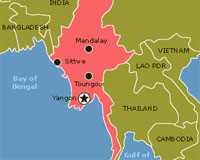 Last week it was indicated that Porcine Reproductive and Respiratory Syndrome (PRRS) struck Burma's second biggest city, Mandalay. The first report of the disease was made on 15 Feb, while currently the disease is rapidly spreading.
Recently it was also said that more than 1,000 pigs have died due to PRRS, also known as blue-ear disease.
Amrapura Township Veterinary and Animal Husbandry Department officer, Dr. Tun Myint Soe, has stated "The disease spreads very fast. Now thousands more pigs have been infected."
The disease has affected Aungmyetharsan, Chanayetharsan, Mahaaungmye, Chanmyatharsi, Pyigyitagun, Amrapura, and Madaya and Sagaing townships.
No treatment available
Dr. Tun Myint Soe further stated: "We have no treatment for this disease so we're trying to control it by bio-technology preventive methods and by providing awareness campaigns to the townships. We told people to spray insecticide and disinfectant around a pigsty, to boil their pig feed, to wear footwear before entering pigsties and to use quick lime if they can not afford pesticide and disinfectant'.
Dr. Tun Myint Soe has also stated that the exact number of pig deaths is still currently unknown.

Emergency warning
The World Health Organisation (OIE) for Animal Health has issued an emergency warning in Burma on the spread of the disease.