New Yorkers confused by ugly pig-like carcass on Manhattan shore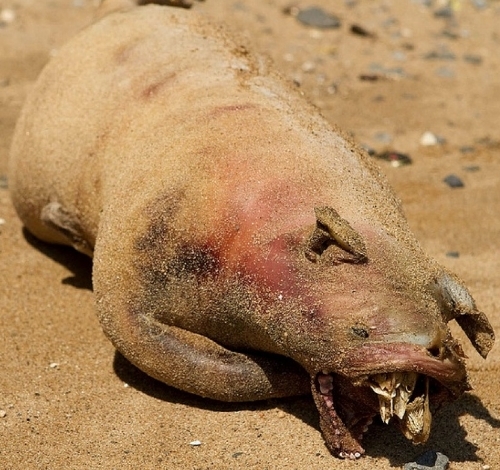 An ugly pig-like corpse, washed ashore at Manhattan, has confounded New Yorkers and animal scientists alike as nobody can really tell what it is.
Pictures were made by amateur photographer Denise Ginly, passing by with her boyfriend.
The New York Parks Department were quick to point out it was a bloated, 'discarded cooked pig', which the department had thrown out.
As can be seen on pictures, however, the animal's long tail and hoof-less claws are typically non-swine. Dr Paul Curtis, a Cornell University professor and wildlife specialist, stated it could be a small dog that ballooned with decay.
He said, "It was likely a small dog that drowned and has been floating in the river for quite a while. It is obviously bloated, and all the hair has slipped off the carcass."
Nothing mysterious
Loren Coleman, director of the International Cryptozoology Museum in Portland, Maine, told the Huffington Post: "There is nothing mysterious here, I would wage, and this one looks like a dead rat or dog, but we'd need to see the skull and more detailed photos to determine the species," said Coleman, who writes on many animal mysteries, folklore and cryptozoology.
It has also been suggested it would be a possum, an aardvark, a giant rat or a raccoon.
It is not the first time a weird creature washes ashore in Manhattan – in 2008 an unidentified animal carcass as well.