Mystery pigs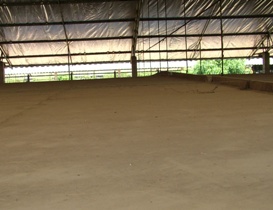 As usual at any farm visit, pigs announce themselves rapidly. A strong, familiar odour usually enters through the car ventilation system or window before I have had the chance to get out.
It wasn't any different, last week, when I ended up with a group of about 30, predominantly Asian journalists, at a Thai finisher farm called Udomdate Farm, near the town of Ratchaburi, roughly 100 km east of Bangkok.
The reason I went there is related to the VIV Asia show, which will soon be held in Bangkok (March 11-13) – and how better to prepare for this biennial event than touring through Thailand to discover the finest developments in South East Asian pig industry?
Biosecurity
After a kind welcome, all journalists got dressed in special green biosecurity hairnets, white jackets, and feet covers. Looking forward to greeting some pink friends!
Out we went, on a hop-on hop-off trip on-site, having 60 almost closed buildings, most of them occupied. "Once the fans are working, then there's pigs inside," the guide told.
First stop was a building housing a noisy biogas engine.
Second stop was the the biogas storage facility of quite some square feet.
The third stop… brought us where we started. End of tour. No pigs?
Tiptoe
One of the journalists, keen on getting at least some on camera, raised hiself on tiptoe next to the nearest pig house and held his camera over the rim between the wall and the roof.
The result on the display, however, was somewhat disappointing. A sort of yellowish colour appeared.
More journalists tried at more places at the pig house. More yellow.
These pigs were covered well. Surely travelling out to Thailand will not result in just a smelling session?, we thought, and eventually managed to see a glimpse of them, around the corner, peeking through a fan.
Suspension
The view explained why we could not see any pigs. Covers were suspending low from the ceiling, presumably creating a more ideal air pressure during ventilation.
A good idea, most agreed, although none could recall having seen it before.
So, here's my question – who knows more about the system? Where else can they be found? Are there more benefits? Leave a message. I am keen to learn.
©