Massive culling of pigs takes place in Taiwan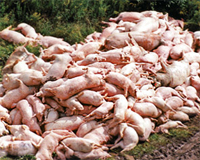 Pigs that were affected by Foot-and-Mouth disease in Taiwan have been culled. It has been stated that 999 pigs have been culled thus far on Penghu Island due to the disease.
Taiwan's epidemic prevention authorities confirmed the culling. Currently, 3000 pigs are quarantined.
Most serious FMD outbreak
According to a report, this current outbreak is the worst seen in the past three years on the island.
It is not permitted at this moment for pork or live pigs to be transporteed in or out of Penghu, as there is fear of the disease spreading.
Taiwan' s cloven hooves production has been restricted for export since 1997- when Foot-and-Mouth epidemic was rife in the region. Other animals are under close monitoring by epidemic prevention officers in Penghu as well as on mainland Taiwan.