Lithuania reports outbreak of Classical Swine Fever – origin still unclear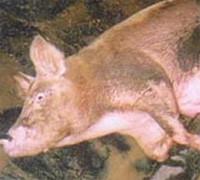 Lithuania has reported an outbreak of Classical Swine Fever to the world Organization for Animal Health (OIE) on June 1.
The disease was suspected one day earlier on the pig farm of the joint stock company Berzs Kompleksas, located in the village of Sils, near the city of Kaunas, in the heart of the country.
The outbreak of CSF was confirmed by the National Food and Veterinary Risk Assessment Institute (NFVRAI), which is the designated National Reference Laboratory for CSF of Lithuania.
Susceptible
The farm had 15,919 swine and all were reported to be susceptible to the virus – but so far details about mortality or culling figures are not known. Vaccination to CSF is prohibited and the affected animals will not be treated – after stamping out, the premises will be completely disinfected.
All the CSF eradication and prevention measures have been applied in the outbreak and around it.
Measures applied
A standstill regime for pigs is introduced in the whole territory of Lithuania for trade and export. No movement, no trade (in or out) of pigs from the infected farm was done to EU countries. On all the industrial pig farms of Lithuania which export live pigs, trade in pigs with other EU member states and move pigs within the country, clinical and laboratory examination starts to be performed. Wildlife is also controlled.
Although the strain (type 2.1) is identical to an outbreak in July/August 2009, so far the origin of the outbreak is unknown. Infection through wild boar is not suspected. State Food and Veterinary Services will start an investigation of the outbreak and all the measures.
Related website:
• World Organization for Animal Health (OIE)