Leading academic wins prestigious pig award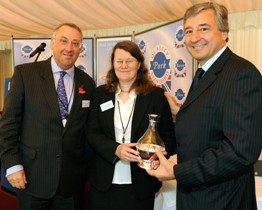 Prof Sandra Edwards, someone who prefers to keep a low profile despite her sustained contribution to the British pig industry is this year's recipient of the prestigious David Black Award.
Sandra, who holds the Chair of Agriculture at Newcastle University, started life on a mixed farm in East Anglia.
She completed a degree in Natural Sciences at Cambridge and a PhD at Reading before spending 20 years in applied research for ADAS and the Scottish Colleges.
In 1998 she became Reader in Animal Science in the Department of Agriculture at the University of Aberdeen and in 2000, she was appointed to the Chair of Agriculture at the University of Newcastle.
Sandra said: "I am both surprised and honoured to receive the David Black Award.
"It has been a real pleasure to work with an industry which has one of the most integrated and constructive sets of people around. The way they work together with government, researchers and people outside the industry to achieve common goals is an example to all.
"The industry has been through some very difficult times but there are signs of improvement in the national situation and I hope our industry can grow again as it certainly deserves to do.
"It is going to be very difficult for the British industry to become a world player for production volume, but what I would like to see is Britain recognised as a world leader in terms of the professional quality of our pig producers.
"One of the things at which the UK has excelled is the technical expertise and skilled stockmanship which producers bring to bear on the job."
Chairman of the judges Mick Sloyan said: "Sandra has made a long-standing and extremely valuable contribution to the pig industry. A sustainable future for the industry is underpinned by relevant research which will help us regain our competitiveness.
"She has been a leader in research on welfare and it is vital we have scientific input into the welfare debate rather than emotional reaction."
©