Japan: Livestock allowed to be transferred again following ban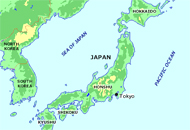 After more than three months ban that has been set in place, due to foot-and-mouth disease, livestock is again allowed to be transferred from Miyazaki Prefecture.
The ban has been lifted and according reports, Miyazaki Gov. Hideo Higashikokubaru will issue a declaration of safety. The ban was put in place following the foot-and-mouth discovery which led to the slaughter of approximately 289,000 pigs and cows.
©
Worst loss for nation's livestock industry
A total of 220,034 pigs and 68,314 cattle and cows have been culled to halt the disease from spreading to other areas, said the Ministry of Agriculture, Forestry and Fisheries. According to a ministry statement, it is the worst loss the nation's livestock industry has ever sustained.
©
The first case of foot-and-mouth was reported in the town of Tsuno on April 20 before it spread to 11 municipalities. Veterinarians began carrying out checks on most of the 940,000 (approx.) livestock in Miyakazi last week – before it confirms an official end to the epidemic. ©
©
A state of emergency on May 18 was declared by Higashikokubaru; following the partial lifting of the state of emergency rule on July 1.
©
"I feel relieved as the situation in Miyazaki has returned to normal," Agriculture Minister Masahiko Yamada said. "We will offer various support for the prefecture to rebuild livestock farming."
©
OIE recognition
Hirata further added that Japan will call for recognition by the OIE as a country free from the disease to resume meat exports, however, this won't happen before Oct. 6, as the OIE requires that there be no reports of disease for at least three months.
©