Innovation: Welfare transport truck for pigs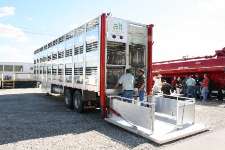 Advanced Livestock Transport (ALT) introduced the 'next generation of transport' to the US market at World Pork Expo, in Des Moines, Iowa.
Introducing European standards for pig transports in the USA, through cooperation with the Spanish company of Castañé, from Barcelona, the three storage aluminium ALT truck includes both advantages for transporters and for animals.
Animals benefit through easy access by a lift to all three decks, additional floor space, a quick automatic open-and-close ventilation system and also a nozzle system that can keep them cool during transport. Uploading pigs takes 40 minutes, unloading 10-20 minutes.
Research
According to research at Texas Tech University, the number of deaths on arrivals due to heat stress decreased in comparison to other types of trucks. In addition, in cold weather, the system is claimed to reduce the number of non-ambulatory, non-injured pigs.
Transporters can also benefit as there is no physical labour as bending over involved to get the pigs in place. In addition, the cabin is equipped with a fully computerized panel through which climate conditions can easily be changed inside the truck if necessary.
Related websites:
• Advanced Livestock Transport
• Castañé