Iberian pig producer 5J walking pigs through Seville in protest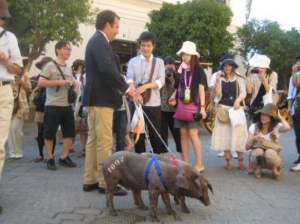 Pig production company Cinco Jotas (5J) walked two pure Iberian pigs through the center of Seville to draw attention to the industry's problems.
The company Sánchez Romero Carvajal, located in Jabugo (Huelva) and dedicated to the development of quality cured products from pure Iberian pigs, signed a manifesto in defense of the Iberian pig breed, last Thursday, writes Qué!.
Ivan Llanza, director of communications of 5J, walked the two animals through the main streets of Seville, the Plaza Nueva, the Avenida de la Constitution, the Plaza del Triunfo and Calle San Fernando.
With the manifesto, the company aims to achieve a number of improvements in the current legislation to protect the pure Iberian pig breed and provide transparency and communication with the consumer. The manifesto is signed by professional and business organisations, for the processing industry, chambers of commerce and public and private institutions, and by several companies.
High quality benchmark
In the words of Bernardino Rodriguez, CEO of 5J, "Our brand is definitely a high quality benchmark in the industry with our commitment to the purity of the Iberian breed and raising our pigs in the best pastures of the Iberian Peninsula."
The executive adds that "the current situation of the sector requires decisions in favour of greater transparency on the labels of products in order to avoid fraud and protect the Iberian and the meadows, the contrary would lead to their degradation and ultimately, to extinction."
Among other things, the manifesto calls for a clear distinction between the pure Iberian breed animals and crossbred Iberian pork because nowadays it is possible to label crossbred pork as as a cured Iberian ham product.
Related websites:
• Qué!
• Cinco Jotas