Elanco's US president: Focus on technologies in swine production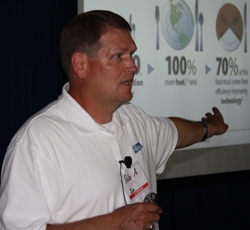 In a forward-looking presentation at World Pork Expo, in Des Moines, Iowa, Rob Aukerman, president US operations, Elanco Animal Health, launched a plea for the strength of agricultural technologies to meet the future's challenges.
Introducing well-known figures of Mother Earth being inhabitated by over 9.1 billion people in 2050 he posed the question many others before him did: How to feed all these people, especially when the demand to meat will grow?
In an answer to that he emphasised that only technology will be able to help answer this question – and for clarification purposes he introduced three basic human rights: food, choice and sustainability – all three can be respected when using accepted technology in the livestock industry, he said.
Food
Food, Aukerman said, is a basic right for many people but he mentioned as well that hunger is the number one problem in the developing world – and it exists in the 'developed world' as well since there is a lot of hidden hunger.
Choice
Both consumers and producers have choices, Aukerman said. He added that when consumers are asked unaided (unbiased) questions about their wishes, about 95% of all consumers indicate that taste, cost and nutrition are the most important factors when purchasing their groceries. How a product was made was hardly important, he said.
This was concluded in the International Consumer Attitudes Study (ICAS), that zoomed in on 26 countries over a ten year period.
Hinting towards environmentalist or animal activist groups that press for different production methods, he said: "Don't let this turn into a good food/ bad food issue. One can't take the choice away from 95% of the consumers."
He added, "We pay too much attention to a very small minority. We have got to be more vocal, we have got to get these data out."
Technology
He then compared the UK to Brazil – in his view the UK pig industry declined in the last 20 years due to an 'overly restricted' agricultural policy, whereas the Brazilian pig industry could grow tremendously over the last decade – "here you see what can happen if you open it up."
He quoted data from the World Wildlife Foundation – improvements in technology in the beef industry in the last 35 years have yielded a 18% smaller carbon footprint, said Aukerman.
"I think we dispelled the myth consumers don't want technologies in farming practices. Data point in one direction, it's time now to unite. "
Related websites:
• Elanco Animal Health
• World Pork Expo