Danish sows face shoulder ulcer problems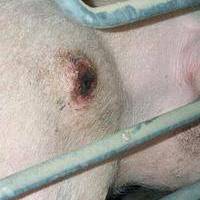 There are still many sows with shoulder ulcers, according to a new study from the Faculty of Agricultural Sciences at Aarhus University.
Research carried out in the spring and summer of 2008 examined no less than 3,831 lactating sows on 98 different farms. The results showed that 17.2% of the lactating sows had shoulder ulcers to a greater or smaller degree on one or both shoulders.
This is the first time a study has been made of the frequency of the problem on farms. Earlier studies have been carried out on slaughtered sows at the slaughterhouses and this has not given a proper picture of the situation on the farms.
In the new study the lesions are classified in three categories. Grade 1 is a superficial lesion, grade 2 includes all skin layers, while grades 3-4 are deep lesions. 13.0% of the sows had grade 1 lesions, i.e. superficial lesions, while 4.2% of the sows had lesions classified as grade 2 or worse.
Marianne Bonde, Department of Animal Health, Welfare and Nutrition, who headed the study said there was a big difference in the frequency of shoulder ulcers on the individual farms, says senior scientist.
"We found sows with shoulder ulcers on all the farms we visited, but on many farm there were only a few sows with ulcers. On other farms there were problems with shoulder ulcers in more than 30 percent of the sows".
Related Website
• University of Aarhus