Cost/ benefit analysis – Salmonella control in slaughter pigs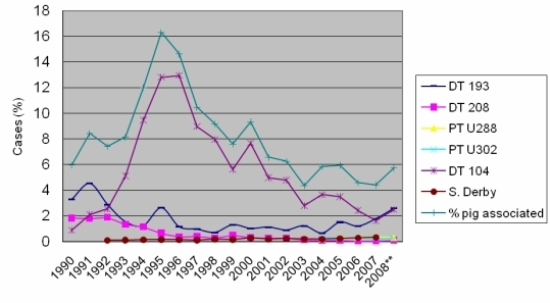 EFSA have published an excellent analysis of the costs for reducing Salmonella in slaughter pigs and the benefits or savings in reducing salmonella cases in man – whoops there are none.
These are the findings of an independent consortium commissioned to provide the European commission with an analysis of the costs and benefits in the EU of setting a target for the reduction of Salmonella infections in slaughter pigs and the impact it might have on reducing salmonella transmission to man. There is a risk of transmission of Salmonella via pork and pork products to man, mainly S. Typhimurium and S. Derby, which are the two most common ones in pigs. The incidence of the infections vary from country to country but in the EU overall they accounted for 21.9% and 0.7% respectively of human cases in 2008.
Pig herds
In pig herds the findings were 31.5 and 13.2% and pig meat 33.1 and 19.8%, respectively. The attribution to pig meat as the cause of Salmonella in man remains difficult. In the Netherlands they put it as high as 21% but in the UK taking all the phage types of Typhimurium and Derby found in pigs, it is below 6% (see Figure 1) even though some types are found in cattle and poultry so may be lower at about 3%. They used a relatively high attribution figure of 15% in their model.
Figure 1. Pig associated phage types of S. Typhimurium and S. Derby.

They looked at the cost of pre-harvest Salmonella control interventions and the benefits in human health and animal health costs. The total human health costs of Salmonella in the EU was put at €600 million and therefore the costs attributed to pigs would be €90 million (15%). They looked at seven different categories of costs associated with the control of salmonella in pigs: – feed, breeding pig and replacement stock, farm level (husbandry and hygiene), transport, slaughterhouse, monitoring and support unit. The costs of the interventions on an EU basis varied from €287 million for the smallest set of interventions to €1,458 million for a comprehensive programme (see Table 1).
Table 1. Intervention costs on an EU basis.
| | | |
| --- | --- | --- |
| © | Intervention | Cost (€ millions approximate) |
| 1 | Feed | 1,049 |
| 2 | Breeding farm | 83 |
| 3 | Fattening farm | 649 |
| 4 | Transport | 50 |
| 5 | Slaughterhouse | 42 |
| 6 | Monitoring | 67 |
| 7 | Support unit | 191 |
Feed improvement costs (heat treatment/ pelleting, addition of acids etc) were the most expensive, followed by cleaning up the finishing farms. Surprisingly, controls at the slaughter house were the least cost. Some increased monitoring and support, i.e. continued bureaucratic interference, was put at €287 million and was thought the best option giving a benefit/ cost ratio of 1.07 and net present value of €21 million provided that there was a 6% reduction of human health losses and a 6% reduction in pigs affected with Salmonella.
They concluded that "whilst this is a very modest return under rather optimistic assumptions, it may indicate the most cost-effective way forward for Salmonella control."
Farm to fork
So where do we go from here? To me, it seems pretty obvious.
We have gone along with the whole 'farm to fork' approach for long enough. Surely, it is time, if the EFSA is serious in reducing the potential transmission of infections from food to man, to select more direct approaches, such as controlling carcass contamination at the slaughterhouse.
This would be the most direct approach and likely to give the quickest return on investment and a benefit/ cost ratio of 2.14 and with a better chance of having a successful outcome. Otherwise, this analysis shows that they are going to continue to waste every pig farmer's time and more importantly money.