China – Pigs found to have Foot and Mouth disease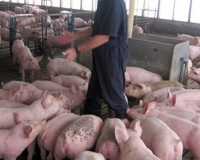 China has reported Foot and Mouth Disease (FMD) to the World Organization for Animal Health (OIE). The disease was found in the province of Hubei, according to the Ministry of Agriculture.
FMD was found in 24 pigs in Badong county, however, all 24 affected pigs including the 71 also present have been culled.
According to the ministry, the epidemic, is under control.
The pigs were first discovered to have FMD on the 27 December. The source of the outbreak is currently unknown.
Foot and Mouth disease
Foot-and-mouth disease or hoof-and-mouth disease is an infectious and sometimes fatal viral disease that affects cloven-hoofed animals, including domestic and wild bovids. The virus causes a high fever for two or three days, followed by blisters inside the mouth and on the feet that may rupture and cause lameness.
It is a severe plague for animal farming, since it is highly infectious and can be spread by infected animals through aerosols, through contact with contaminated farming equipment, vehicles, clothing or feed, and by domestic and wild predators. Its containment demands considerable efforts in vaccination, strict monitoring, trade restrictions and quarantines, and occasionally the elimination of millions of animals.
Susceptible animals include cattle, water buffalo, sheep, goats, pigs, antelope, deer, and bison. (Wikipedia)
Source: Reuters
Related website: World Organization for Animal Health (OIE)