Bulacan pig industry to recover from culling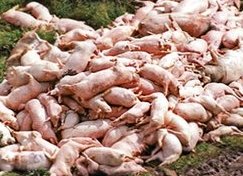 Bulacan Governor Joselito Mendoza has offered optimism that the dying pig industry in the Philippine province will recover when the culling of the Ebola Reston-infected pigs is completed.
The Ebola Reston scare sparked trouble in the local pig industry, bringing down the sales of pork by a massive 50%.
The governor, however, said that he is expecting the hog industry in the province to recover as soon as the Bureau of Animal Industry (BAI) finishes the culling of the Ebola Reston-infected pigs in Pandi town this week.
Meanwhile, the team conducting depopulation of hogs in Bulacan is back on track and is likely to meet the Friday deadline as almost 5,000 or 73% of the 6,500 pigs from an infected farm in Pandi town have been culled.
Agriculture Secretary Arthur Yap told reporters that culling team members have recovered ground in the process after encountering several delays in the first few days.
The pigs were ordered slaughtered after foreign health experts found that some of the animals were found positive for the Ebola Reston virus, a non-lethal virus that infected not only pigs in a Pandi farm but also by a number of farm workers in Central Luzon.