BioBusiness: Focus on monitoring, control of pig aggression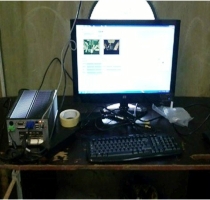 Monitoring and controlling aggressive behaviour in pigs – that was the ambitious goal of new initial research, presented yesterday at the second BioBusiness workshop in Brussels, Belgium.
Although natural behaviour, aggression in finisher pig farms may lead to both physiological stress and physical injuries – and in extreme cases to death. Aim of the project is to develop a useful intervention strategy.
Researcher Maciej Oczak, on behalf of the Dutch company Fancom, explained the initiative at the workshop, which was attended by about 50 delegates from all over the world.
Monitoring
For the project, an experimental monitoring system has been constructed in which a pen with on average 23 kg pigs (entire males) were observed, both by on-farm presence and by using a camera for three full days.
Afterwards, behaviours that started aggression have been analysed and labelled, e.g. nose-to-nose, head-to-head knocking, mounting. The rest of the fights were also monitored.
This knowledge has made it possible to identify sequences in pigs aggressive behaviour and also patterns in pigs body positions during aggression.
Eventual goal of the project is to develop a concept approach in which mechanisms can be used that would automatically identify a potential fight – and to design intervention strategies that can act as a result.
Precision Livestock Farming
The project uses a Precision Livestock Farming (PLF) approach, which aims to combine the use of advanced monitoring technology with labelling methods, in order to be able to better take care of farm animals.
Apart from Fancom, the pig project is supported by the University of Veterinary Medicine in Hanover, Germany, the University of Milan, Italy and the Catholic University of Leuven, Belgium.
Similar progress was also reported in PLF projects in poultry (reducing the hatching window, Petersime) as well as dairy cows (detecting lameness problems, DeLaval).
BioBusiness
The BioBusiness project zooms in on PLF development, will run over a total period of 48 months and is interconnected to the European funded Marie Curie research project.
This week's event highlighted the progress of in total 11 fellows, attached to several universities and companies throughout Europe, and initiated discussion on PLF. On behalf of Pig Progress, editor Vincent ter Beek addressed the audience with a presentation about PLF and the media.
Fancom has also been working on a different PLF project, revolving around cough detection for identification of respiratory disease – and this research is in the stages of near completion. The company will be running prototype trials and hopes to launch it to the market late 2012.
Related websites:
• Fancom
• Catholic University of Leuven
• TiHo Hanover
• University of Milan
• Petersime
• DeLaval
• BioBusiness