Big Dutchman opens new facility in Brazil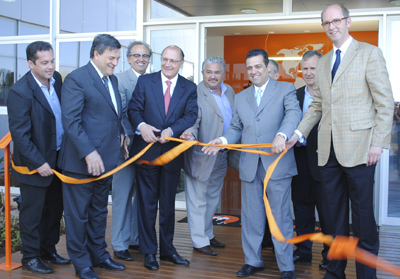 Big Dutchman recently inaugurated its new Brazilian facility in the city of Araraquara, state of São Paulo. Nearly BRL 30 million (€ 13 million) were invested in a property with ten hectares (25 acres) on which nearly 16,000 m2 (172,000 ft2) were built.
The event attracted more than 500 customers, suppliers and local authorities. Addressing the crowd Bernd Meerpohl, chairman of the board of management, spoke about the huge potential Brazil has for further developing its intensive animal production and its natural ability to help feed the world. However, Mr. Meerpohl also emphasised, that natural resources alone are not enough. It is also necessary for Brazilian poultry and pig producers to be ahead of the curve on all issues and available technologies involving their industries in an increasingly connected world.
Kai Wehmeyer, Member of Big Dutchman's board of directors, was also present. Clovis Rayzel, president of Big Dutchman USA, spoke about the event being above all a moment of commitment to the Brazilian market. Ricardo Santanna, Big Dutchman Brazil's managing director, welcomed the guests and thanked the city of Araraquara for supporting this project. Amongst several local authorities Big Dutchman was honoured with the presence of Araraquara's Mayor, Marcelo Barbieri and the Governor of the state of São Paulo, Geraldo Alckmin, who toured the new facilities and was introduced to Big Dutchman's broad product line in its state-of-the-art showroom.