Big Dutchman: New tool allows AI to be carried out at right time, more profits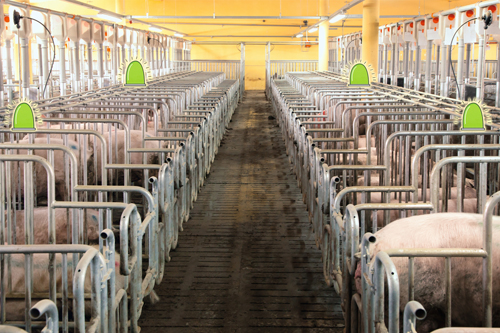 Big Dutchman has recently added a new tool to its product portfolio which will help sow managers to improve the performance and profitability of their operations considerably: The high-end technology PigWatch allows for real-time 24/7 heat monitoring in a sow house. Thanks to the computerised management system artificial insemination can now be carried out at exactly the right moment.
PigWatch has enormous saving potential: in addition to a higher fertilisation rate and more piglets per litter the high reliability of the system results in a reduction of the required number of semen doses. For the sow manager PigWatch also means that traditional, time-consuming heat checking is no longer necessary which facilitates the work flow and saves time.
The best time for insemination is determined by a monitoring unit of three infrared sensors installed at the stall directly above the sow. All important information such as heat or insemination status are indicated by an easy to read LED display.
The core part of PigWatch is a high-performance computer which constantly analyses the behaviour of the sow in real time and compares her behaviour activities with the stored reference values. Based on this data, the correct time for artificial insemination is then determined individually for each sow. Information about the individual heat sequence of a sow can be viewed in form of clearly arranged graphs on a connected PC or Laptop.