Belarus bans pork imports from districts with African Swine Fever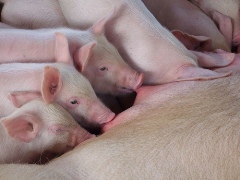 Belarus has banned imports of pork from Tver and Volgograd regions of Russia due to the unprecedented spread of African Swine Fever (ASF).
Yury Pyvovarchyk, Belarus chief state veterinary inspector stated last week: "The department of veterinary and food supervisory decided to prohibit pig, pork and pork product imports from the Tver and Volgograd regions into Belarus."
The press sevice of the Belarus ministry of agriculture and food added: "The ban also applies to leather, horns, hoofs and intestinal material, hog wool, wild boar, hunting trophies, animal feed and feed additives for animals, as well as to used equipment for maintenance, slaughter and butchering of pigs."
Contaminated feed and food waste is currently being considered as the second-most cause of the spread of African Swine Fever within Russia. Most importantly, the uncontrolled migration of wild boars is named.
New regions affected
Meanwhile, the Russian Federal Service for Veterinary and Phytosanitary Surveillance (Rosselhoznadzor) reported other outbreaks, in Krasnodar and Novgorod regions of the country.
In Novgorod, the outbreak was revealed by the specialists of the Ministry of Emergency.
The service stated: "On July 26th, 2012 we received information that in the forest near the village Vorobyovo of Krestetskogo municipal district, Novgorod region, a dead wild boar has been found dead. Samples from the corpse showed positive results for African Swine Fever virus." (by Vladislav Vorotnikov)