Australia: Pig abattoir fights to get licence back (See VIDEO)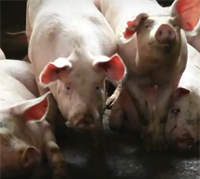 For 60 years farmers have been sending their stock to the LE Giles abattoir in Gippsland, Australia, however, this came to an end after a video from Animals Australia appeared to show cruel treatment of pigs. The owners of LE Giles abattoir are now fighting to get their operating licence back.
The video made headlines last year November, when it first came to light and the abattoir was shut down. Animal regulator PrimeSafe suspended the abattoir's operating licence, which was effective immediately. The chief executive of PrimeSafe Brian Casey stated in November that he was shocked by the treatment of the animals as shown in the video.
Abattoir ownder, Colin Giles stated, "We've always tried to do the right thing. We don't condone what this employee has done. It's pretty horrific. You can't deny it."
"Based on that footage I immediately ordered to close the abattoir and all operations were ceased," said Casey.
The Giles family are now fighting to get the operating licence back, they have taken the case to the Victorian Civil and Administrative Tribunal (VCAT).
Gippsland is located in the state of Victoria where it is necessary for all abattoirs to be licenced with PrimeSafe and to have a quality assurance program that complies with the Australian Standard for the Hygienic Production and Transportation of Meat and Meat Products for Human Consumption.
The case will be heard in March.
To view the video which made headlines in November last year, click on the link below. PLEASE NOTE: This video has some graphic elements and not advised for sensitive viewers. The video was made by animal rights organisation Animals Australia. The video has no relation to Pig Progress.