Australia: Foot-and-Mouth disease policies in the spotlight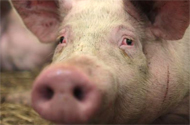 National Farmers Federation's chief executive, Ben Fargher, has stated that Australia's Foot-and-Mouth policies need to be reviewed.
The Cattle and Sheepmeat Councils of Australia and the National Farmers Federation have expressed concerns regarding the FMD outbreak in Japan and the parties have said that biosecurity investment in Australia should be maintained.
©
"We need to make sure that the industry-government plans are seamless, so people know what to do and when to do it. Obviously, in terms of the government, they've got a responsiblity in terms of testing of all their biosecurity arrangements and risk arrangements that they test, and we're going to keep pushing them to make sure they keep getting done," said Fargher.
©