AASV and NPB revise pig euthanasia guidelines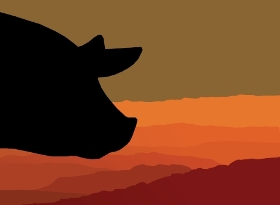 The American Association of Swine Veterinarians (AASV) and National Pork Board (NPB) recently reviewed its document about on-farm euthanasia of pigs.
The booklet, called 'On-Farm Euthanasia of Swine – Recommendations for the Producer', counts 20 pages and is designed to help producers make appropriate decisions regarding euthanasia of swine, the AASV website says.
It highlights methods of euthanasia recommended for different sizes of pigs, and outlines the factors to be considered when selecting a method for use.
Working group
The revision of the guidelines was completed by a joint AASV/NPB working group. AASV members Dr Scanlon Daniels, Dr John Deen, Dr Morgan Morrow, Dr David Reeves, and Dr Lisa Tokach served on the working group. A comprehensive literature review of swine euthanasia was a key resource utilised by the group as they considered the appropriateness and humaneness of each method of euthanasia.
The AASV Foundation provided funding for the literature review, which was conducted at Iowa State University.

Related websites:
Iowa State University
American Association of Swine Veterinarians (AASV)
National Pork Board (NPB)